Through Nier's official Twitter account, Square Enix and Platinum Games have confirmed that the sequel to Nier "NieR: Automata"will be released on the PC via Steam on March 17th.
NieR: Automata Coming To PC On March 17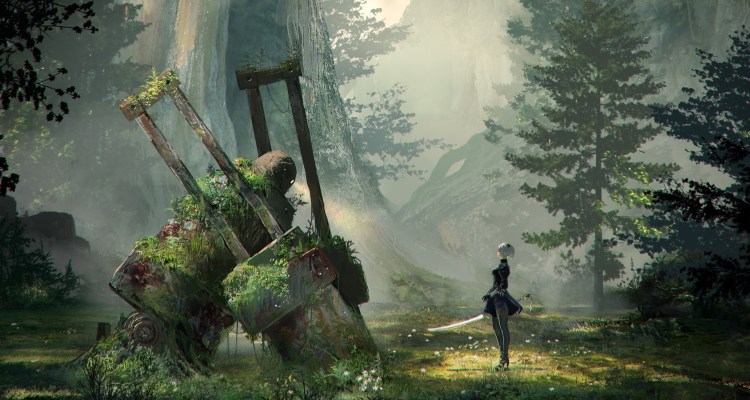 Apart from the official announcement for the PC, the support site of Square Enix Japan also released the PC system requirements of the game.
NieR: Automata Minimum System Requirements:
Operating system: Windows 7 64bit, Windows 8.1 64bit, Windows 10 64-bit
Microprocessor: Intel Core i3 2100 / AMD A8-6500
Memory RAM: 4GB
Video Card: NVIDIA GeForce GTX 770 VRAM 2GB / AMD Radeon R9 270X VRAM 2GB
DirectX : 11
Disk space: 50GB
Display: 1280 × 720
You Might Like: Nier: Automata – New Details And Screenshots of Forest Area
NieR: Automata Recommended System Requirements:
Operating system: Windows 7 64-Bit / Windows 8 64-Bit / Windows 10 64-bit
Microprocessor: Intel® Core i5 4670 / AMD A10-7850K
Memory RAM: 8GB
Video Card: NVIDIA® GeForce® GTX 980 VRAM 4GB / AMD Radeon R9 380X VRAM 4GB
DirectX : 11
Disk space: 50GB
Display: 1920 × 1080
NieR:Automata tells the story of the androids 2B, 9S and A2, who struggle to recover the world driven by machines that have invaded powerful mechanical life forms.
Mechanized aliens have invaded Earth, forcing humanity to abandon it. In a last attempt to recover the planet, the human resistance sends an army of android soldiers to end the invaders. The war between the machines and the androids becomes more and more fierce. A war that will soon expose the truth about this world…
NieR: Automata developed by a brilliant team formed by producer Yosuke Saito (DRAGON QUEST® X / NIER), director YOKO TARO (Drakengard / NIER), character designer Akihiko Yoshida of CyDesignation, Inc. (FINAL FANTASY XIV / BRAVELY DEFAULT), game designer Takahisa Taura of PlatinumGames Inc. (Metal Gear Rising: Revengeance) and composer Keiichi Okabe of MONACA, Inc. (TEKKEN / Drakengard 3 / NIER).
Action-packed combat: Switch between short and long-range attacks as you battle hordes of enemies and challenging bosses on multiple open-world maps. Combat controls are easy to master for neophytes while offering a formidable depth for advanced players. You can execute offensives at high speed combining light and heavy attacks, and test your entire arsenal of weapons while dodging enemies nimble.
A beautiful and desolate open world: The game connects the overwhelming landscapes and locations fluently without any load. Environments run at 60 fps and contain a large number of subframes in addition to the main story.
Elements of RPGs: Get different types of weapons, level up while fighting, learn new combat skills and customize your equipment based on your style.
Take advantage of tactical support pods in and out of combat: Pods can attack the enemy manually and automatically. They can also provide help outside of combat, for example, to travel through the air. It is possible to improve the pods throughout the game with new attacks and modifications.
AUTO MODE for beginners: New players can select the AUTO MODE to attack and dodge the enemy easily.