Sony has launched a 'new' PlayStation 5 Digital Edition on the market under the model name CFI-1100B0 that attracted lots of attention as new console is around 300 grams lighter.
YouTuber Austin Evans, who was able to get one of these consoles for purchase. Obviously, he disassembled the console that he bought in Japan and compared it to the model that was originally released on the market (CFI-1015B).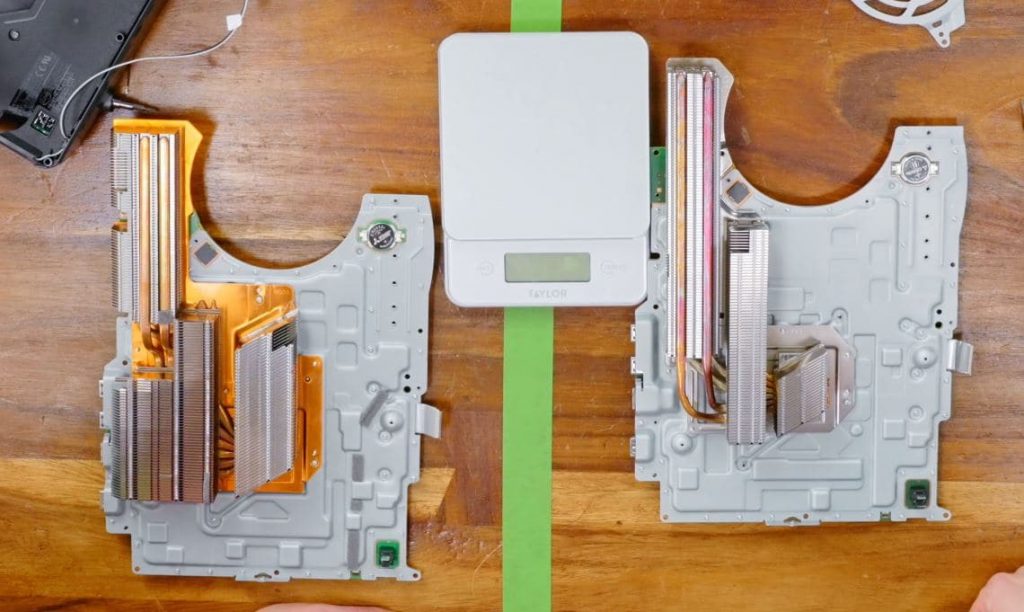 You Might Like: Sony secures 22 million chips for PlayStation 5 Consoles
As you can see, there is a noticeable difference in terms of cooling, where all the copper plate is lost to distribute the heat evenly on the aluminum back plate, where the cooling system is mounted. The main radiator, above the heatpipes, has seen its size reduced by half, on the left we can also see several changes, losing the thicker aluminum radiator and slightly increased size of the two remaining radiators.
When the console has lost 300 grams of weight, it is clear that the cooling system has lost its power. The old cooling system weighs 1,639 grams, compared to 1,368 grams for the new one. There we have 271 grams of weight less, or put another way: 271 grams less of copper and aluminum.
To prove it, Evans played a simple game like Astro's Playroom, which is included in the console to familiarize us with the new controller. After measuring the temperature with a thermal camera, we can see how the new PlayStation 5 sees temperatures increased by up to 5ºC, although the use of a new fan, which weighs exactly the same as the original, makes the console go from throwing a loudness from 43.5 to 42.1 dBA.
This implies that the useful life of the console is also reduced by accelerating the degradation of the components, also keep in mind that with more demanding games the temperature difference can increase. It is unknown if the model with a Blu-ray reader will undergo any modifications, although, for now, it seems that they want to increase the profitability of the cheaper model.