Today we have new leaked details on Intel Z270 and Intel H270 chipset, which will be released in early next year (2017) with the arrival of the new Intel Kaby Lake processors. Remember that Kaby Lake processors will also be supported on LGA1151 motherboards, so it is not necessary to buy a motherboard of Intel 200 series. A motherboard of the Intel 100 series will do the job in less price, unless you want to take advantage of the Intel Optane storage, because otherwise there are no major changes. Below you can see a comparison chart of Intel Z270 vs Z170 and Intel H270 vs H170.
Intel Z270 Vs 
Z170 and Intel H270 Vs
 H170 Specification Comparison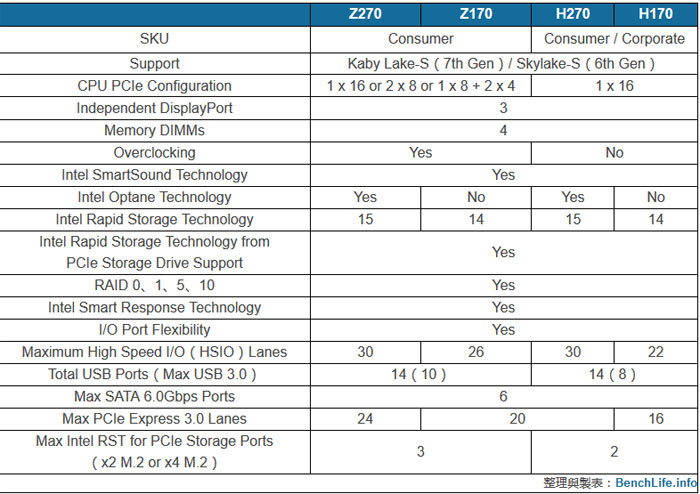 You Might Like: Intel Core i3-7350K: Budget Friendly CPU That Supports Overclocking
Start with the "economic" chipset, the Intel H270 vs H170, where CPUs from Intel Skylake and Kaby Lake are compatible, offer a single PCI-Express 3.0 x16 slot, both chipset will not allow Overclocking and share vast majority of the specifications. Being the only notable differences is the support of Intel Optane storage technology, offering up to 20 PCI-Express Lanes vs 16 PCIe for H170, thus having the same as the Z170 chipset.
With regard to high – performance chipset, the Intel Z270 vs Intel Z170, the differences are practically nonexistent, repeats the inclusion of Intel Optane technology, through non – volatile memory of very high performance, much faster than SSD, but also much more expensive. We will have a total of 24 PCI-Express lines, which will avoid losing graphics performance if we have a Graphic card on x16 with a pair of M.2 x4 high performance SSD. So in summary, the only noticeable improvement will employ to storage units with Intel Optane technology.
In addition to Z and H series, Intel also plans to release Q270, Q250 and B250 series chips, updated version of H110.
Via: Benchlife