The iMac for home users has also been updated today by Apple. New All-In-One PCs, which will be up to 80 percent faster thanks to the new Intel Kaby Lake processors alongside the new generation of AMD Radeon 500 graphics.
New Apple iMac, now 80% faster with better screen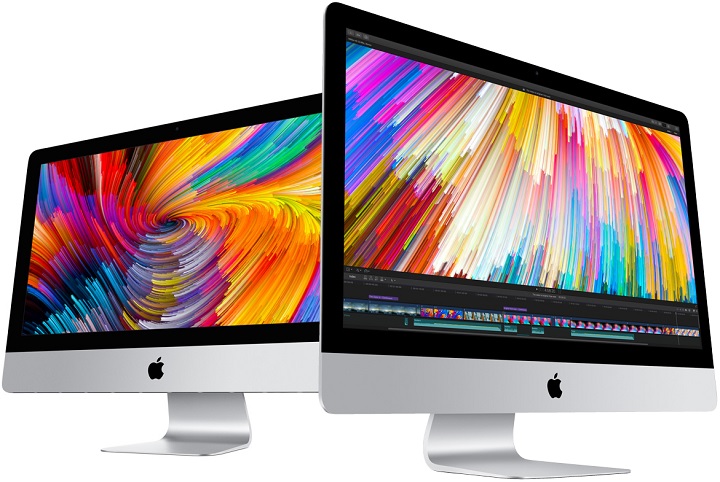 You Might Like: Apple iMac Pro: 18-core Intel Xeon processor and AMD Radeon Vega graphics
In this way, we will find Intel Kaby Lake processors attached to the Radeon Pro 555 graphics and Radeon Pro 560 graphics in models of 21.5 inches with 4K resolution to which we can add up to 32 GB of RAM, while the model of 27 inches with 5K resolution can be joined to Radeon Pro 580, Pro 575 and Pro 570 accompanied by up to 64 GB of RAM. Both devices offer two Thunderbolt 3 ports compatible with Type-C USB ports, three USB 3.0 ports, card reader and Gigabit Ethernet. The information is completed with a new panel that achieves a luminosity of up to 500 nits and the use of SSD units for storage.
The most basic iMac starts with the 1,299 euros (Core i5 dual core + 8GB DDR3 @ 2133 MHz, 1TB HDD, Intel Iris Plus Graphics 640 graphics, and Full HD display 21.5 "). The top of the range goes for 2,599 euros (27 "5K, Core i5 4 cores, 8GB RAM @ 2400 MHz, 2 TB SSHD and a Radeon Pro 580 with 8 GB of GDDR5 memory).