In addition to the images of ASRock motherboards based on the Intel Z370 chipset, which we wrote about yesterday, the first "details" of MSI's new motherboard, designed to work with Coffee Lake processors, also "leaked" to the Web. We are talking about the MSI Z370 Godlike Gaming, which would be the flagship motherboard from MSI camp to give life to a new generation Intel Core processors that will now offer up to 6 unlocked cores. We remind you that you will need a motherboard with an Intel 300 series chipset, so the current motherboards based on the Intel 100 series chipset and Intel 200 are incompatible.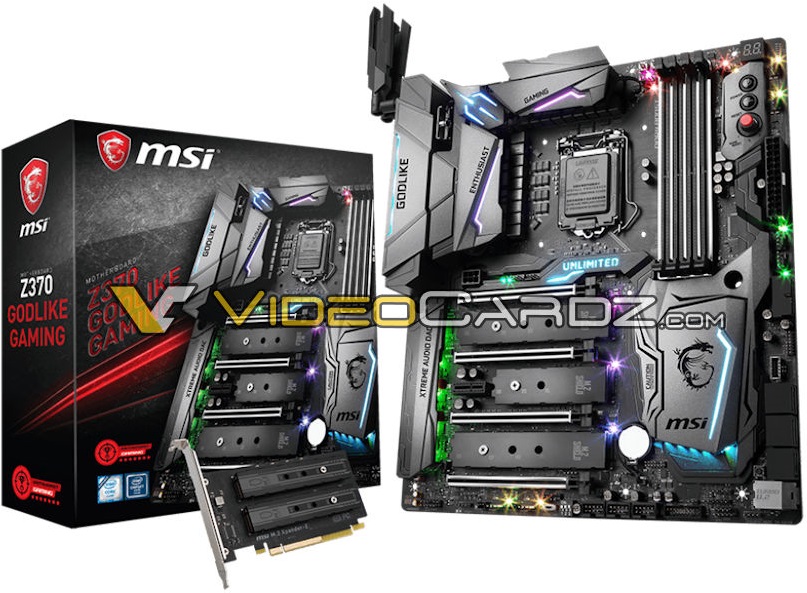 You Might Like: Intel ceases production of its Skylake CPUs
In MSI Z370 Godlike Gaming we find no less than18 power phases hidden under a cooling system, which is accented by RGB lighting. The socket is attached to four DDR4 DIMM slots and four PCI-Express 3.0 x16 steel-reinforced slots alongside a PCIe x1.
In terms of storage, we have six SATA III 6.0 Gbps ports, one Turbo U.2 port and no less than three M.2 ports for very high performance SSDs that will be backed up by aluminum heatsinks. If you still fall short, the motherboard is accompanied by two additional M.2 ports attached to an external card that connects to a PCIe x16 slot.
The information is completed with the incorporation of power / reset / OC buttons attractively added in the top right of the motherboard, next to the display to show error codes or system information, a switch to disconnect PCIe slots, WiFi 802.11ac with a couple of antennas of the most striking, RGB LED lighting at various points on the motherboard, and a high quality sound with dedicated DAC.
Source: VideoCardz