Today we have leaked details on MSI Z270 Gaming Plus motherboard, which is quite interesting, as its price would be around 120-140 euros. MSI tries to reduce costs by giving priority to core functionality only which is more logical for the segment where it is located, such as saying goodbye to support NVIDIA SLI and AMD Crossfire X configurations, also the second PCI-Express 3.0 x16 is not reinforced and it runs at a speed of x4, so we have a motherboard designed to use a single graphics card of any range.
MSI Z270 Gaming Plus: One of the cheapest Z270 in the market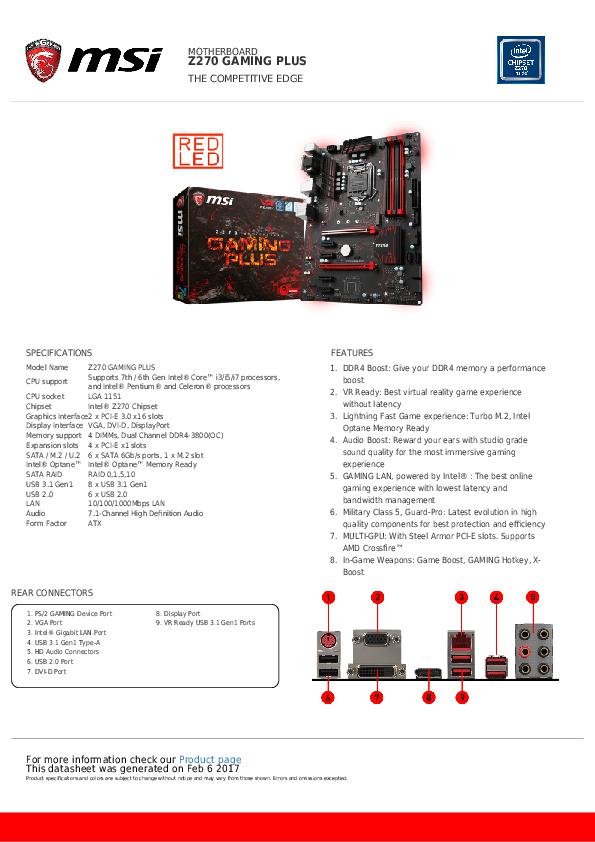 The MSI Z270 Gaming Plus powered CPU via a 6 + 1 phase power VRM attached to four DIMM slots DDR4 @ 3800 MHz, the already mentioned PCI-Express 3.0 x16 slots with four PCIe x1 taking over the PCIe one connection for grateful M.2 for ultrafast SSDs. The information is completed with six SATA III 6.0 Gbps ports, four USB 3.1 ports, two USB 2.0, three video outputs as VGA, DVI and HDMI, wireless Ethernet, 7.1 channel audio. The board will be fabbed in a nice black/red theming and obviously will come with some red LED lighting. Its official announcement is expected to take place in the coming days.