We continue with the leaked details of 7th generation mortarboards which will support Intel Kaby Lake processors, and this time we have details on a whole line-up of MSI 7th-Gen motherboards including the MSI Z270 Gaming M7, MSI Gaming M5, MSI Gaming Pro Carbon and MSI Z270I Gaming Pro Carbon AC Mini-ATX format.
MSI Z270 Gaming M7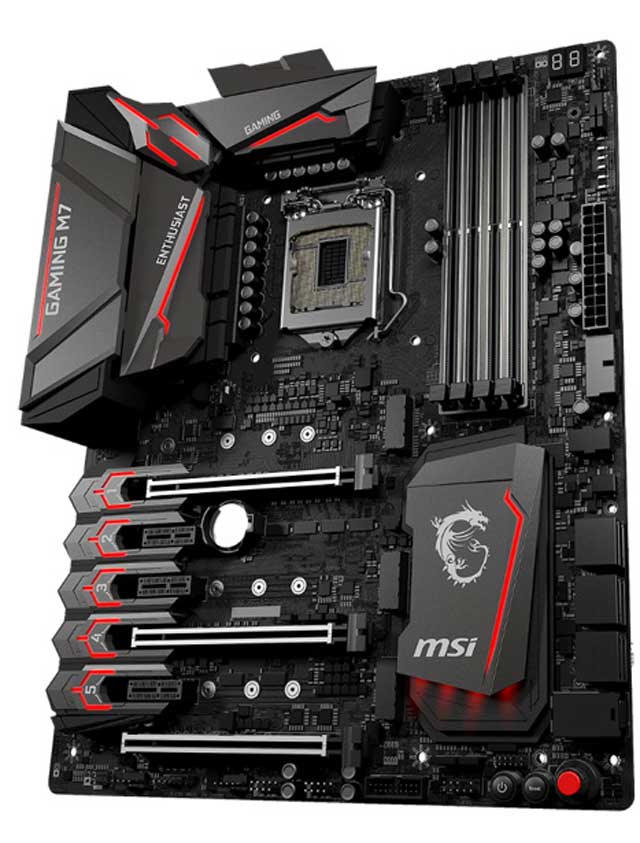 The MSI Z270 Gaming 7 is one of the high-end motherboard from company with LGA1151 socket supported by a powerful VRM of 12 – phase power – cooled by generous heatsink. The socket is attached to four DIMM DDR4 slots reinforced with three PCI-Express 3.0 x16 slots and three PCIe 3.0 x1.  Plenty of storage options are available on this new motherboard including six SATA III 6.0 Gbps ports with one port which seems to be the U.2 and three M.2 for ultra-fast SSDs.
The information of MSI Z270 Gaming M7 completes with what we see, power, reset and automatic OC buttons, a display which will indicate the temperature errors in code, etc., VRM heatsink and Intel Z270 chipset features LED lighting, flashy trims for the PCI slots.
MSI Z270 Gaming M5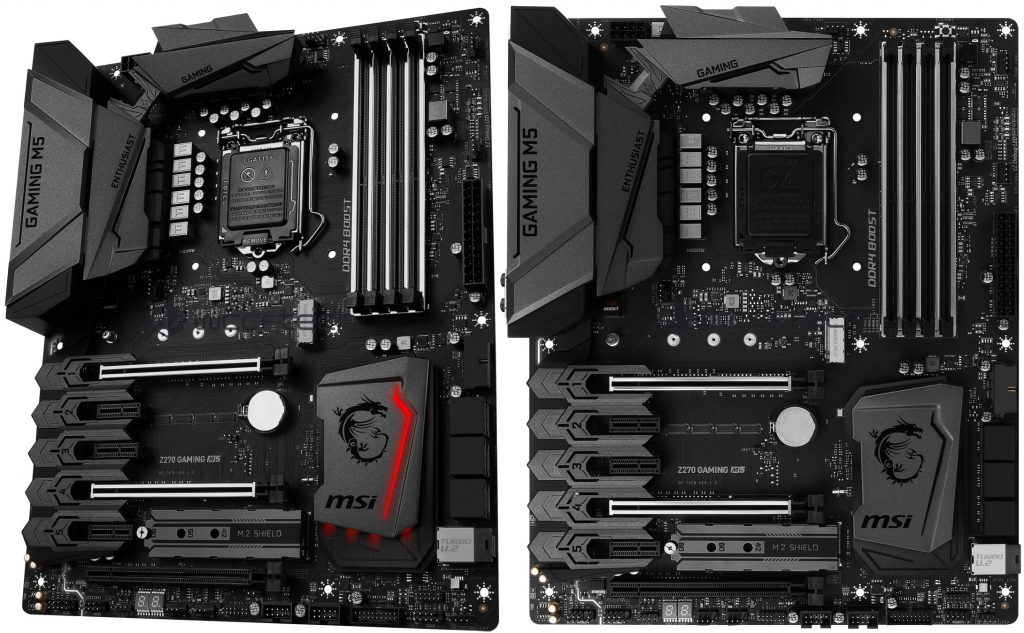 Very similar to the previous one, with impressive M.2 Shield but less ports, an aluminum heatsink to decrease the temperature of SSDs that have much to warm. Other differences are the use of a 10 + 1 phase power VRM. Looking solid motherboard for those who are not interested in very aggressive OC.
MSI Z270 Gaming Pro Carbon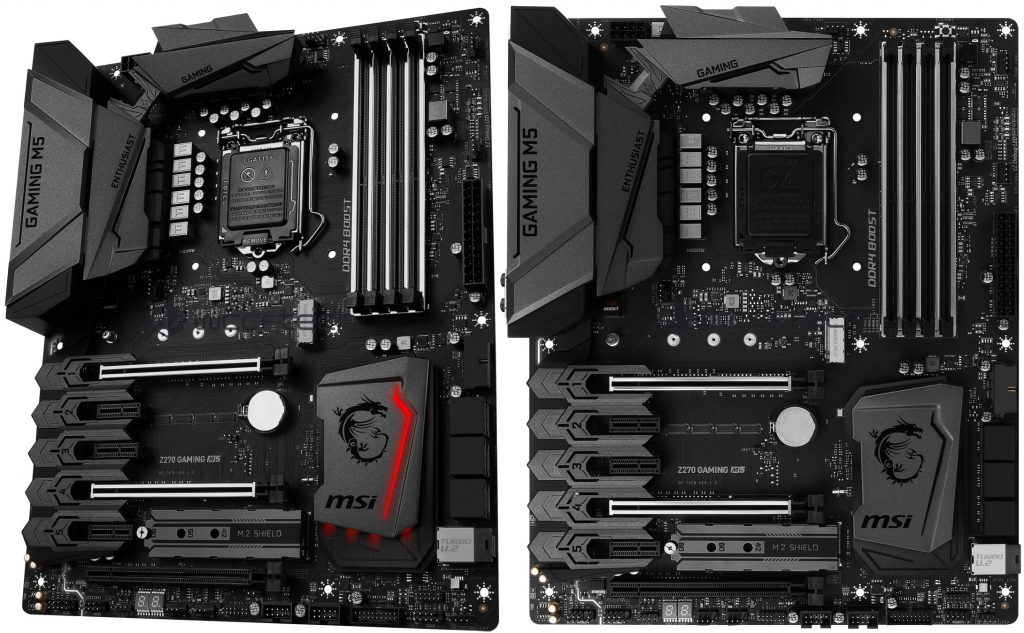 The whole new line-up can be quickly highlighted by the use of a logo on the chipset equipped with RGB LED backlight. This motherboard keeps the 10 + 1 phase VRM, loses the "beautiful" enlightened trims from the PCIe slots, and also loses the U.2 port, but keeps the M.2  with Shield. This motherboard falls under high-performance, allowing you to use up to 64GB DDR4 @ 4000 MHz memory, and include six SATA III 6.0 Gbps ports, USB 3.1 ports, USB 3.0, video output as HDMI 2.0 and DVI.
MSI Z270I Gaming Pro Carbon AC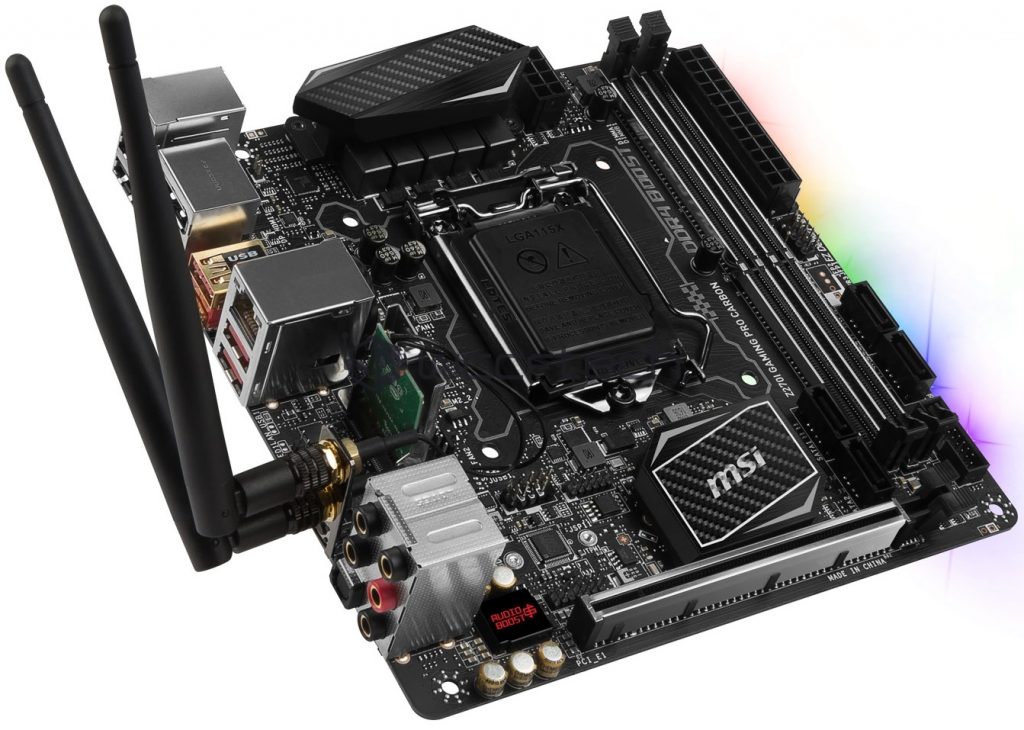 MSI Z270I Gaming Pro Carbon AC is a Mini-ITX variant, with 5 -phase VRM cooled by a small heatsink with carbon fiber finish. The board supports up to 32 GB DDR4 @ 4000 MHz memory, a single PCI-Express 3.0 x16 slot for graphics card, and offers a wide connectivity: 4x SATA II, 802.11 + Bluetooth, 2x USB 3.1, 2x USB 3.0, 2x USB 2.0, HDMI 2.0, DisplayPort, etc., but not equipped with an M.2 slot.