Shortly after a box of RTX 3080 Ti GPUs was sighted, specifically the Ventus 3X model from MSI, today a photo of the flagship model of the brand, called SUPREME X, has been leaked. The source that has provided this image to Videocardz revealed that it comes from a distribution center, but no further details were provided.
Similar to the FTW3 by EVGA or STRIX by ASUS, the SUPRIM X is the flagship of the MSI series, offering the best performance and the best quality materials. Unlike the GAMING TRIO series, which debuted in September 2020, the SUPRIM models feature a metal backplate – not plastic like other models.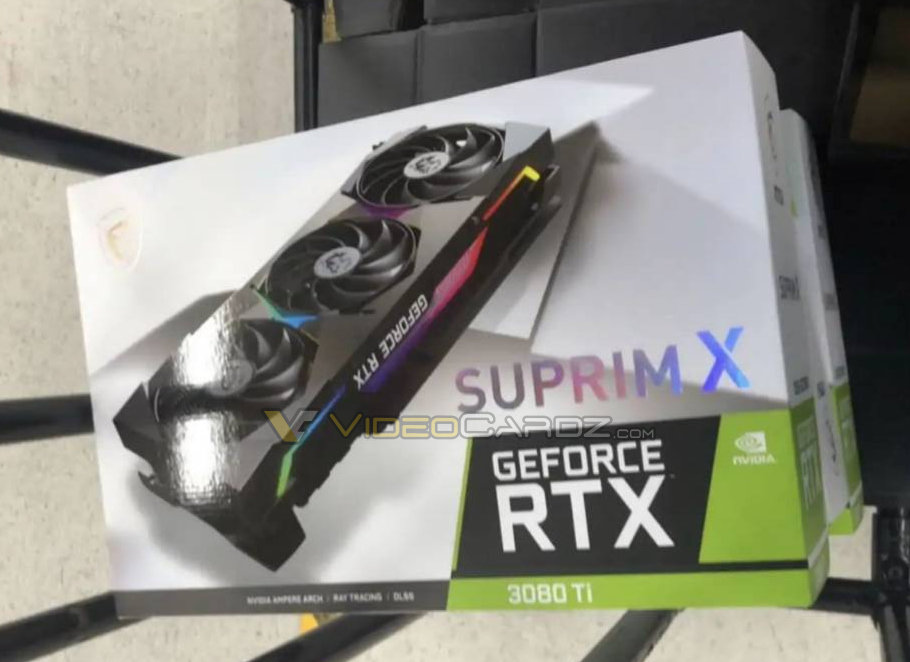 You Might Like: Gigabyte Registered GeForce 3080 Ti 20Gb and RTX 3060 12Gb In ECC
The GeForce RTX 3080 Ti is a new high-end GPU from Nvidia that should deliver nearly the same performance as the RTX 3090. However, unlike Nvidia's $ 1,499 flagship graphics card, this model will feature half the the memory. It will launch with 12GB of 384-bit GDDR6X memory, which is more than enough for 4K gaming, just like the 10GB model. A large reduction in memory capacity and a slight decrease in the CUDA core count will definitely provide an interesting option, as long as the price of graphics cards stabilize around the world.
The RTX 3080 Ti is expected to be announced on May 18, 2021 with a planned release date of May 26 (both dates are unconfirmed). This SKU will launch at the same time that NVIDIA is updating its RTX 30 line with the Lite Hash Rate series. This model, along with the LHR series, will feature a cryptocurrency mining hash rate limiter, as well as built-in Resizable BAR support.
NVIDIA GeForce RTX 30 Series Specifications

RTX 3090
RTX 3080 Ti
RTX 3080
RTX 3070 Ti
RTX 3070
GPU
GA102-300
GA102-225
GA102-200
GA104-400
GA104-300
GPU Clusters
CUDAs
RTs
Tensors / TMUs
ROPs
Base Clock
1365 MHz

TBC

Boost Clock
1665 MHz


TBC

Memory
Memory Clock

19 Gbps

Bandwidth

608 GB / s

Bus
TDP

320

TBC

Suggested Selling Price
$ 999


TBC

Release date
September 24, 2020
May 25, 2021
September 17, 2020
Early June 2021
October 29, 2020