Video games generated approximately $91 billion worldwide in 2016, according to a report from market research firm Superdata Research.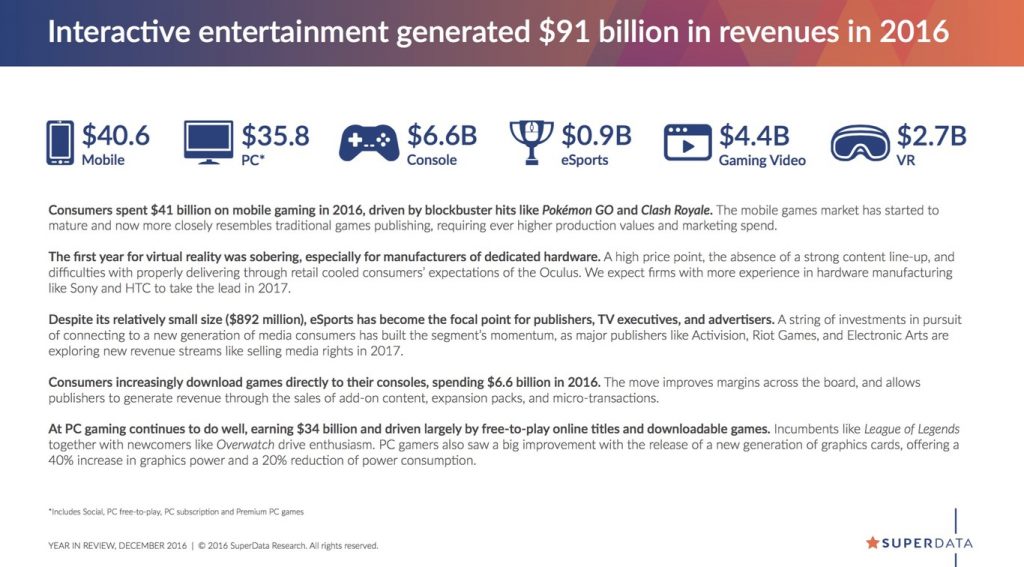 In the revenue generated study by the video game industry, which is currently showing a rate of high growth and increasingly expanding its reach with the addition of new platforms and means for their development.
The segment of virtual reality has generated a total of 2,700 million dollars, but the most surprising was that video games for mobile platforms have surpassed PC and consoles, achieving leadership as a segment that more money has Produced throughout the year. This sector is led by the flagship titles this year: Pokémon GO and Clash Royale.
ESports have managed to grow by 19 percent, resulting in revenues of approximately 0.9 billion dollars. This has been due to increased investment in marketing and some companies like Activision, Riot Games and Electronic Arts, which are more involved in this segment.
In addition, Superdata Research reveals that console users buy more digital copies, rather than in physical form, which also helped to increase the profit margin of the companies. Apart from the mobile market, in 2016 gaming market was dominated by free-to-play PC games with games with microtransactions payment options thanks to titles like League of Legends or Overwatch which has generated more money than any other game in 2016.