When we PC gamers hear the word "consoles", the first thing that comes to our mind is 30 FPS, 720P , low graphics, upscaling and pathetic textures. Well, looking at the latest spec chart of the Xbox Scorpio completely eradicates the impression. Ever heard about True 4K 60 FPS or Hi-Fidelity VR on a console? No? You soon will after the release of this monster, that is next year.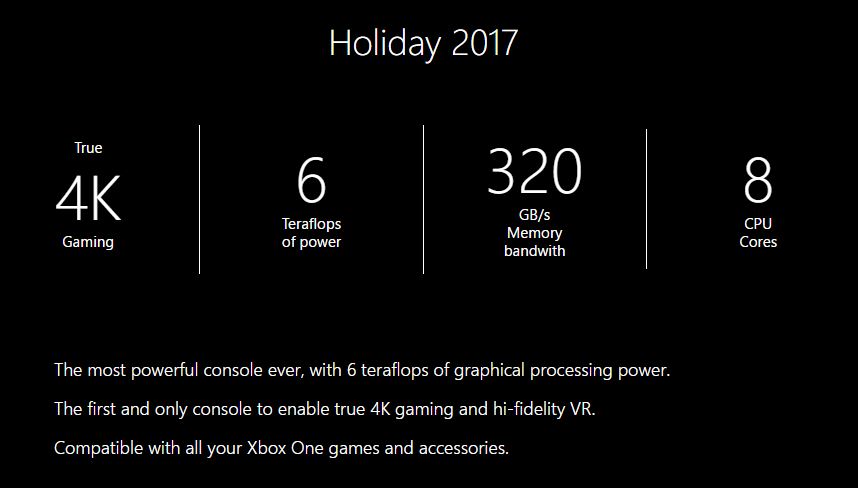 Xbox Scorpio, The Only Console Capable Of True 4K
Microsoft has really stuffed this console with all that they have got. It is quite hard to imagine a console doing so much. as much as exerting a total of 6 TeraFlops last years top end Nvidia GeForce GTX 980 Ti  could only do 5.8 TeraFlops. A memory bandwidth of 320 GB/s that is as much as this years Nvidia GeForce GTX 1080. This is going to be the sweet spot for the gamers who want 4K 60FPS and that too with impeccable portability would be the best sweet dish with a cherry on top. If Microsoft announces a reasonable or ;ow price for this thing we might see a dramatic decrease in the PC Gamers or you can actually say that this is made to stop console gamers from moving on to PCs. An eight core CPU further justifies the potential of the Project Scorpio. So ultimately, all we currently know about the Xbox Scorpio is that it consists of
Octa- Core CPU
Will Render Games @ Native 4K
Most Of The Games Support 60 [email protected]
XBox One Accessories Will Be Compatible
320 GB/s Bandwidth
6 TeraFlops Computing Performance
Just An XBox One Made For Those With A 4K TV
Let us know what you think.