Finally, more than 20 years after the invention of graphics cards, Microsoft decided to put a GPU performance monitor in Windows 10 Task Manager. The novelty comes quietly in the new Insider Preview Build 16226.
Microsoft adds GPU tab in Windows 10 Task Manager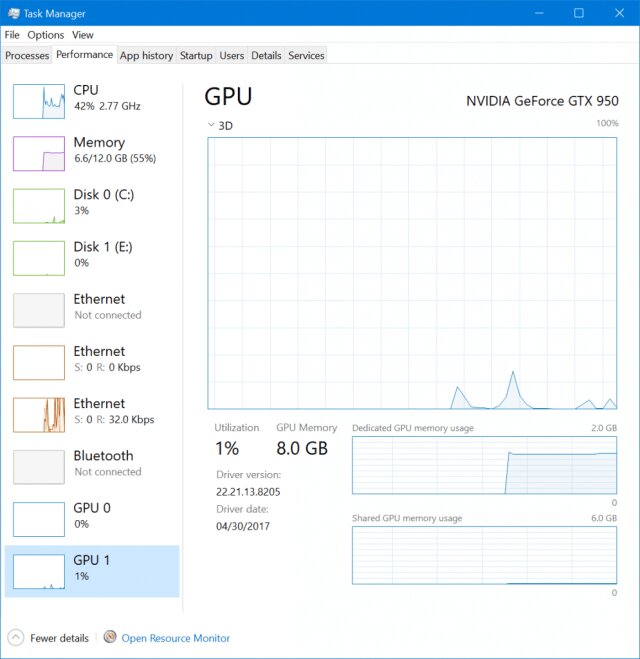 "The Performance tab displays GPU usage information for each separate GPU component (such as 3D and Video encoding / decoding) as well as graphics memory usage statistics. The Details tab shows the GPU usage for each process. "
You Might Like: Age of Empires Definitive Edition Announced for Windows 10 – Trailer
Although many gamers already use other solutions such as MSI Afterburner or EVGA Precision etc. to monitor how graphics cards temperatures and usage, but it is good to know that now it's available in the operating system for those are only interested in some basic facts, rather than Overclocking.
The functionality is still in the testing phase, so you may still experience some bugs. It is not yet known if it will be part of some other great update of Windows 10 or will only be incorporated with some individual patch. Below you can see the complete list of changes in the new Windows 10 Build 16226 for PC.
Changes, improvements, and fixes for PC
If you were impacted by the issue causing your upgrade to get stuck or hung at around 33% trying to update to Build 16215, we fixed the issue and you should be able to upgrade to this build (Build 16226) without getting stuck at 33%.
We fixed the issue causing PCs to bugcheck (GSOD) with inaccessible boot device on install, and the Windows Update error 0x80070643 after rollback.
We fixed an issue preventing PDFs from opening in Microsoft Edge on some devices with enterprise configurations.
We fixed the issue causing some PDFs and sites to open in a cropped view (zoomed in) in Microsoft Edge, causing part of the content to be inaccessible to the user.
We fixed an issue from the previous flight where accented characters couldn't be input properly into Win32 apps using the hardware keyboard.
We fixed a Hyper-V issue resulting in some Insiders not being able to connect to VMs in the last flight.
We fixed an issue resulting in Start now working for a small percent of Insiders on the last flight.
We've adjusted the application of Fluent Design in Start and Action Center to now be a touch more transparent and let more of the underlying color through. Along the way we also updated the Action Center to use the newer conscientious XAML scrollbar design.
We fixed an issue where notifications in the Action Center lost their outline if acrylic fell back to having no transparency, for example on battery saver. We also fixed an issue where the Action Center background might become 100% transparent.
We fixed an issue from the previous flight wherein you couldn't expand notifications displayed in the Action Center.
We fixed an issue resulting in some inbox apps unexpectedly appearing to be missing after upgrading to 16215 (although Store said they were installed).
Snipping tool is now natively per-monitor DPI aware! That means it should no longer be blurry when used in mixed DPI environments, or when changing DPI.
We've gone through all our image resource files and removed unneeded XMP metadata.
We fixed an issue where some of the older control panel dialogs were unexpectedly showing grey sections instead of white.
We fixed an issue from recent flights where selecting "Restart" in the power options list with a pending update had the same effect as "Restart and Update".
When you right-click the network icon in the system tray, "Open Network and Sharing Center" will now open Network & Internet Settings.
We fixed an issue where the Start Fresh page was included in Microsoft Edge's recovery store, leading to potentially multiple Start Fresh pages being visible in each window after Microsoft Edge was reopened.
We fixed an issue where the OS Build Info link on Windows Update Settings didn't do anything when clicked.
We fixed an issue resulting in the top border of UWP apps sometimes being an unexpected color.
We fixed an issue from 16215 where our mini-surveys (we call SIUFs) weren't popping after the computer had been locked and unlocked.
We fixed an issue from 16215 where any external monitor connected to a DisplayLink dock wasn't working and you'd just see a static logon screen.
We fixed an issue from 16215 due to a driver issue where Wi-Fi wasn't working on certain devices like the Surface Pro 1 and Surface Pro 2 and some USB devices.
We fixed an issue from 16215 where printing wasn't working due to having multiple copies of each printer after upgrading.