Micron Technology announced the launch of mass production of GDDR6 memory chips. The overseas chipmaker has become the third largest manufacturer of this type of DRAM and ready to offer 8-gigabit (1 GB) chips to potential customers, which can be used in graphics cards, as well as network and automotive solutions.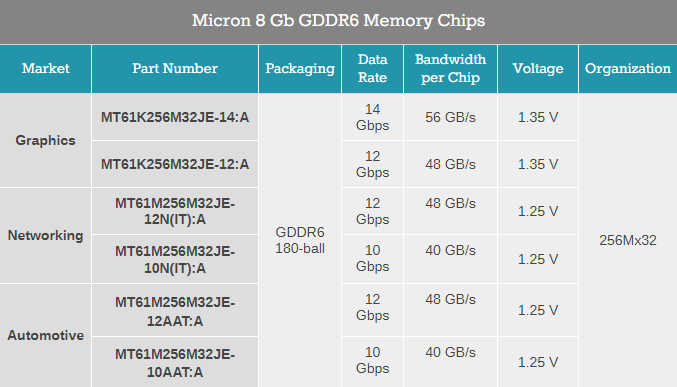 The Micron GDDR6 chips at first will address video card manufacturers. These chips operate at speeds of 12 and 14 Gb / s at 1.35 V and provide up to 48 and 56 GB / s throughput per chip.
In order to demonstrate the advantage of GDDR6 over the already familiar memory types GDDR5 and GDDR5X (Only Micron is involved in production of GDDR5X), the chipmaker brought the table with the capacity of the mentioned chips when using 192, 256 and 384-bit bus. For example, a video card with a 384-bit memory interface can boast a throughput of 672 GB / s, which is more than the Nvidia Titan V (653 GB / s), equipped with HBM2 chips.
Micron Technology has already begun testing 16 Gigabit (2 GB) GDDR6 chips and plans to release products running at speeds up to 16 Gbps in the near future. In addition, in the chipmaker labs  there are GDDR6 samples, capable of operating at speeds up to 20 Gb / s with overclocking.