Mass Effect Andromeda, one of the most anticipated game was affected badly due to the awkward facial animations, resulting in poor reception of the title. Gamers fired their shots on the social media profiles of game developers and also submitted negative reviews and there's a bad news surfacing over the internet.
According to the reports, new story DLC for Mass Effect Andromeda have been cancelled. According to Facebook post of Sinclair Networks, the story DLC for the game has been cancelled due to the issues with staff allocation, criticism and significant delays. Sinclair Networks is known to be providing network solutions to many developers and solutions with patches and updates to the game developers.
We do not find any post of the page of Sinclair Networks right now, possibly the post has been deleted but some people have managed to get the screenshot of the post which is being shared on the reddit forums. Have a look in to the post below;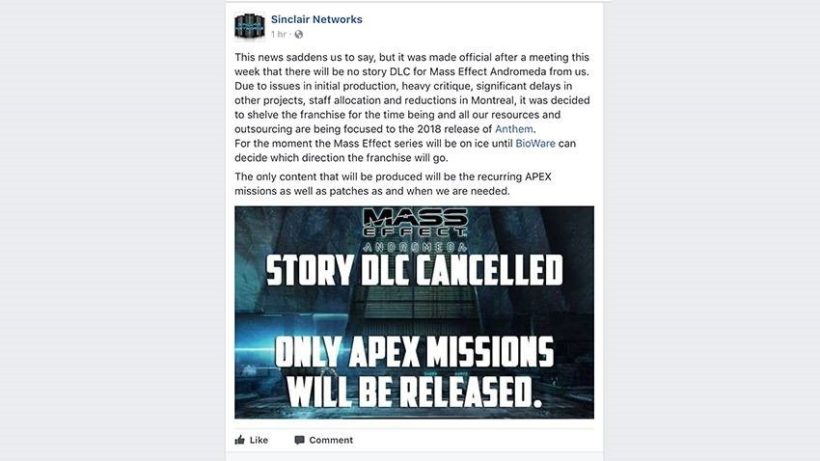 As said in the post, the Mass Effect series is put on the ice right now and they are more focused on the upcoming title Anthem which is due next year. BioWare will have to decide that which content should be released to stabilize the series. However, Apex missions along with some patches will be released for the game.
See also: Mass Effect Andromeda Latest Version is Protected with Denuvo
It must be noted that there is no official confirmation or further evidence to support this claim and it will be treated as a rumor until official clarification on the matter. The game has been an issue for BioWare and EA since its release. The major problems include facial animations which is still being improved with the updates and patches since March.
Stay tuned for more updates!