Mafia 3, recent action-crime developer by Hanger 13 is all set to get three additional story expansion packs in the coming months, with the first one set for release during late March.
It was reported that the game will be getting story expansion packs, but recently, the developer has detailed the upcoming DLCs along with their release dates. The first expansion pack is titled as 'Faster, Baby!', set for release by the end of March. According to the developer, the lead character Lincoln will be joining hands with Roxy Laveau to eliminate a corrupt sheriff while the DLC will be having "fast cars, dramatic chases, and epic stunt driving."
The second Mafia 3 DLC is titled as 'Stones Unturned' is due sometime in May. Here the protagonist Lincoln will be re-uniting with John Donovan, the CIA agent and settle the old disputes to counter the new rival in the town.
While the third and final DLC is called as 'Sign of Times', set for release in July. The expansion pack will have a story of ritualistic killings linked to a craze of both, religion and drugs in the inner city of New Bordeaux.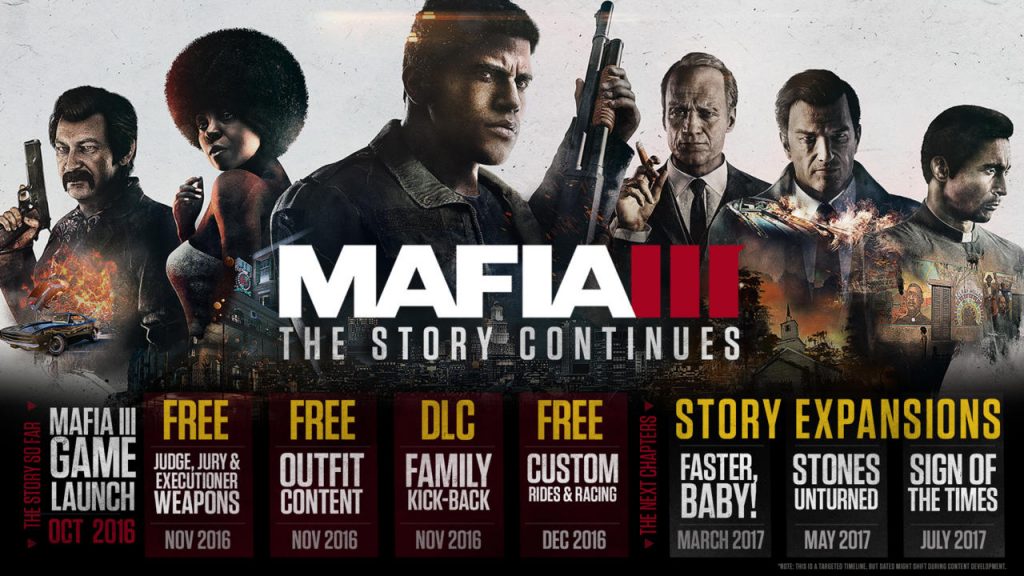 All of these three expansion packs will be in a form of paid DLC and are included in the game's season pass as well. The developers confirm that these story expansions will introduce new gameplay mechanics and the environment.
See also: Mafia 3 Graphics Comparison Screenshots @ 4K Resolution Vanilla VS ReShade
Mafia 3 is now available for PC, PS4 and Xbox One. It is the fastest selling game from 2K's camp, surpassing famous franchises such as NBA 2K, Borderlands and Bioshock and received a great response from fans and critics during its release last October. Stay tuned for more updates!