Mafia 3, a new addition to the famous action-crime series, was released last Friday for PC, PlayStation 4 and Xbox  One. Surprisingly, the game ran at locked 30 fps on the PC at launch, after which the publisher promised a patch to unlock the frames on PC.
After some hours, the patch for the Mafia 3 was released which unlocked the frame rates on the PC version of the game. After the game gets fully tested, we come to realize the reason behind the game's locked 30 frame rates. It appears that the game is poorly optimized for the PC as it requires beefy system requirements to run the game at full HD 1080p and 60 fps.
According to the benchmark results posted by GameGPU.com, Mafia 3 reaches 61 frames on 1920×1080 resolution at maximum, with the visual settings set to high presets. The system is really powerful with both graphics drivers updated, yet the performance seems to be disappointing. Check out the results below;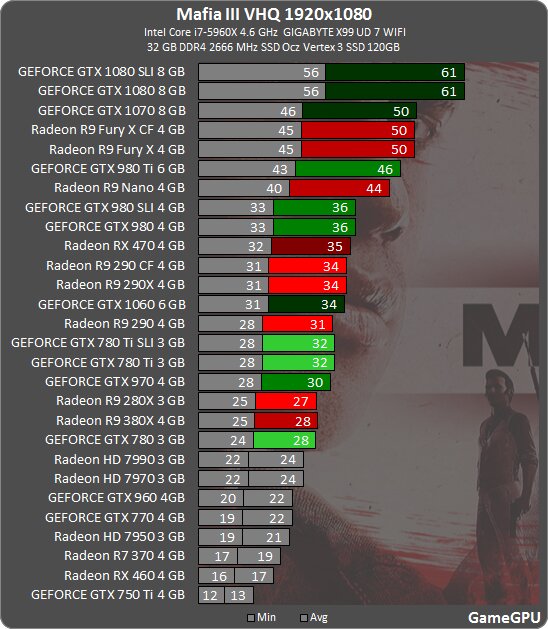 The game runs around 30 fps on the GTX 1060 and RX 470 on high settings, while between 40 to 45 fps on average with the GTX 1060 and RX 470 on full HD 1080p by making some changes in the settings.
We also have the results of the game running at 1440p, where no graphics card can reach the average 60 frames, not even with the SLI or Crossfire as the game doesn't support the feature. Sadly, the owners of GTX 600/700 series and Radeon HD 7000 series will have to sacrifice the high game settings and even resolution in order to reach around 20-25 fps.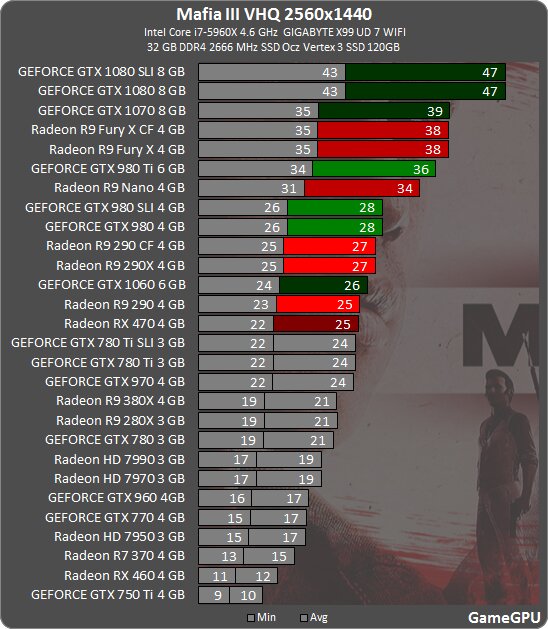 Whereas on the ultra HD 4K resolution, no graphics card can reach the even touch the 30 fps mark, which indeed disappointing. The publisher 2K Games and developer Hanger 13 will have to address the issue of poorly optimization on the PC version, by releasing multiple number of updates.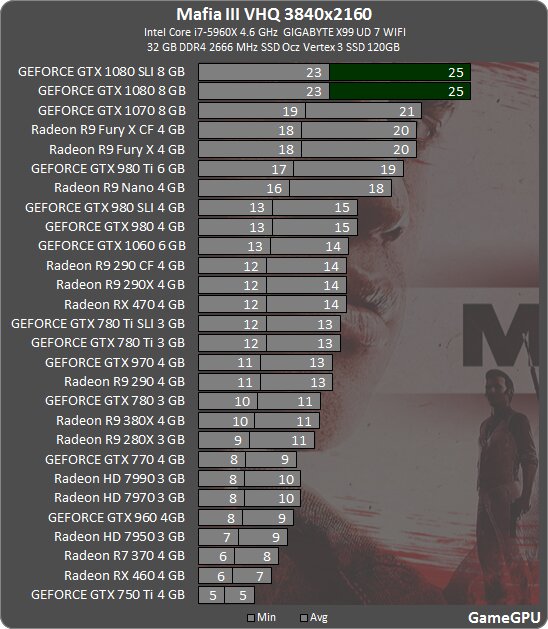 Mafia 3 is now available for PC, PlayStation 4 and Xbox One. How was your experience with the game? Share us your thoughts in the comment section below!
See Also: Mafia 3 Graphics Comparison Screenshots @ 4K Resolution Vanilla VS ReShade