Rockstar is pleased to announce an improved version of the hit crime thriller LA Noire, slated for release on November 14, 2017 for the Nintendo Switch, PlayStation 4 and Xbox One.
In addition to these new versions for consoles, Rockstar will take its first steps in virtual reality with LA Noire: The VR Case Files, with a selection of seven original game cases, rebuilt specifically to provide a virtual reality experience for HTC VIVE.
You Might Like: Former GTA Boss Leslie Benzies Working on "Everywhere", A New Open-World Project
LA Noire was set in the violent underbelly of Los Angeles in the 1940s, and tells the story of Cole Phelps, a veteran and newly promoted detective who must investigate a series of cases inspired by real crimes. Each case solved is a new success for Phelps, but it also draws him ever closer to the dark criminal heart of postwar Los Angeles.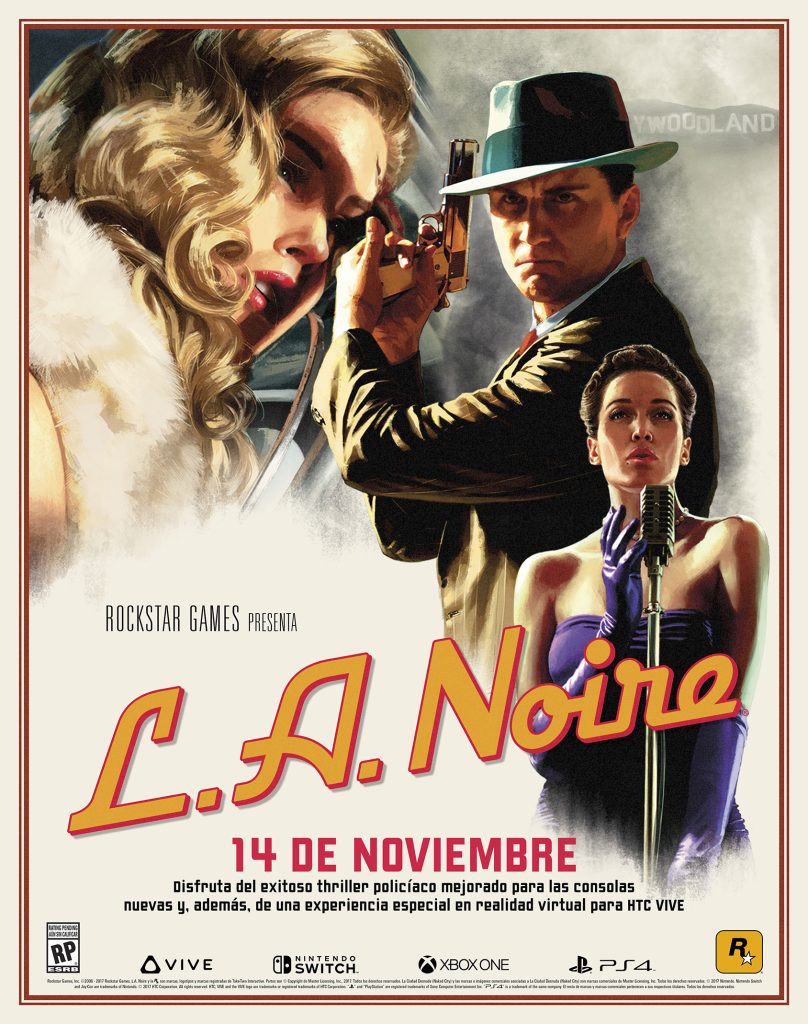 LA Noire: The VR Case Files for HTC Vive  delivers seven of LA Noire's captivating independent cases, specifically rebuilt for virtual reality, combining thrilling action with research tasks to provide an interactive experience never seen before.
LA Noire for Nintendo Switch includes the full original game and all downloadable content plus enhancements such as Joy-Con mode with gyroscopic gestures, HD vibration, new wide and over-the-shoulder camera angles, plus contextual touch controls for takeing the detective's job wherever you want.
LA Noire for PlayStation 4 and Xbox One  includes the original full game and all downloadable content, plus technical novelties to enjoy greater authenticity and visual fidelity, such as improved lighting and clouds, new cinematic camera angles, high resolution textures, etc. . It features 1080p natively for the PlayStation®4 and Xbox One, and a stunning 4K for PlayStation®4 Pro and Xbox One X. These versions capture all the darkness and details of the city of Los Angeles like never before.