Thanks to the leaked roadmap of the Coffee Lake platform for desktop market, we can now confirm that the motherboards equipped with the Intel Z370 chipset will arrive at the end of the third quarter, specifically in early October. But the most important news is that the rest of chipsets will not arrive until the beginning of 2018.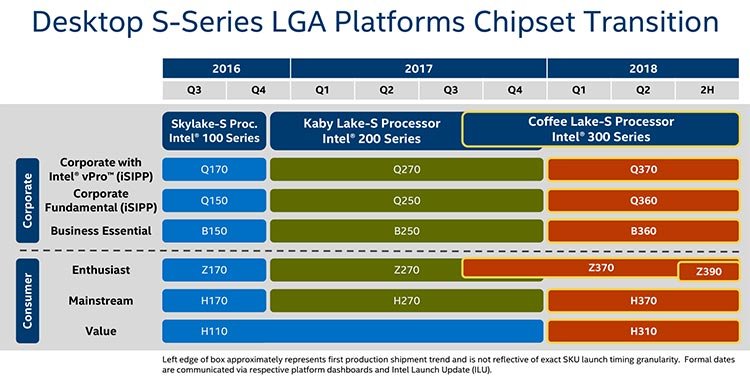 You Might Like: Unofficial prices and specifications of Intel 8th Gen Coffee Lake desktop processors
In this way, we will have to wait for the first quarter of next year to find the most economical motherboards with the chipset H370 and H310, while motherboards with chipset B360, Q360 and Q360 for the professional sector. This means that until the beginning of 2018 it will not be possible to create a low-budget PC using a Coffee Lake CPU, something "logical" considering the existing stock of Intel Kaby Lake CPUs, which will occupy that gap in the meantime.
Most important of all, during the second half of the 2018, Intel will release a new chipset for enthusiasts – Intel Z390. Unlike the Z370, which is a transitional solution, a new set of logic will receive a number of innovations. Among them, the integrated USB 3.1 Gen 2 interface controller (10 Gbps) and Thunderbolt 3 (including support for DisplayPort 1.4), a " partially integrated " Wireless-AC (Wi-Fi + Bluetooth) wireless adapter, and support for SDXC memory cards.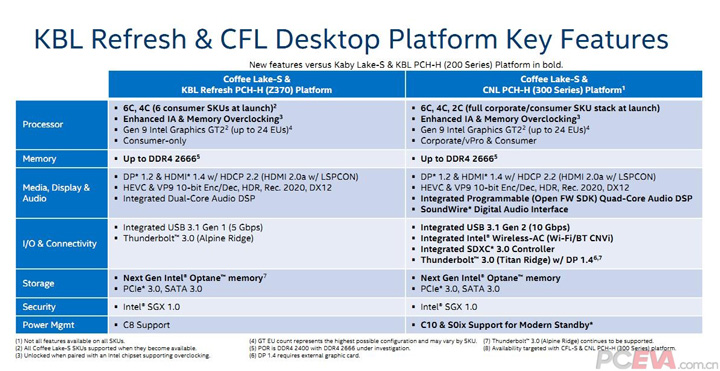 Source:
AnandTech