This year, Intel processors will begin to be equipped with Gen11 graphics cores, replacing Gen 9.5 generation embedded GPUs. The latter have been used in one form or another by a chip maker for several years.
The corporation has already promised that the speed of Gen11 cores will surpass the 1 TFlops mark, approaching the level of Radeon Vega graphics as part of AMD Ryzen hybrid processors. Intel is going to share with fresh details about the new generation of integrated graphics at Game Developers Conference 2019, which will be held from March 18 to March 23.
Representatives of the chip maker will talk about the main features of the graphic architecture of Gen11, its "building blocks", their impact on performance, as well as the innovative features of the upcoming video cores. Apparently, Intel wants to make sure that video game developers will be able to fully use the computing power of the new iGPU.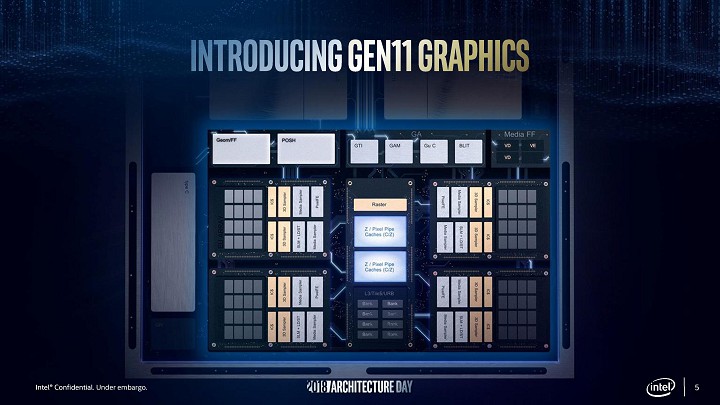 Intel managed to achieve growth in the speed of integrated graphics due to architectural improvements and due to an increase in the number of computing units (Execution Units). For example, for the GT2 configuration, their number was immediately increased to 64, while the analogous video core of the Gen9.5 generation contains 24 EU. 
One of the main innovations of the coming generation of embedded GPUs will be support for tile rasterization. This technique was adopted by the corporation Nvidia a few years ago, and last year it took over AMD. Tile rasterization involves splitting the screen into separate parts with a full rendering cycle, from which the final image is then assembled. It significantly reduces memory bandwidth requirements, but more actively uses the internal cache. By the way, the L3 cache in the new iGPU has been increased to 3 MB.
Intel Gen11 graphics cores will also boast an advanced multimedia unit, which received a revised HEVC decoder, as well as the ability to simultaneously encode and decode video with a resolution of up to 8K. In addition, it says the support of extended dynamic range, along with synchronization technology VESA Adaptive-Sync.
We remind you that, Intel Gen11 graphics cores can be found in 10-nm processors Ice Lake-U, debuting before the end of this year. Chipmaker shared general information about them at the 2018 Architecture Day event held in December.