Today, we have more information pertaining to 11th Generation of Intel Core processors, the Rocket Lake-S, which would finally be announced on January 11 at CES 2021 through a virtual conference. On that same day, company will also announce its new high-performance motherboards with the Intel Z590 chipset. Regarding the launch, the reviews of these processors are expected to arrive on March 1 and on March 19, you will find them on sale in stores.
Intel Rocket Lake-S Desktop Processors Specifications: 
Model

Cores / Threads

Freq. Turbo




1 Core

Freq. Turbo




All cores

L3 cache

Core i9-11900K

8N / 16H

5.30 GHz

4.80 GHz

16MB

Core i7-11700K

8N / 16H

5.00 GHz

4.60 GHz

16MB

Core i5-11600K

6N / 12H

4.90 GHz

4.70 GHz

12MB

Core i5-11400

6N / 12H

4.40 GHz

4.20 GHz

12MB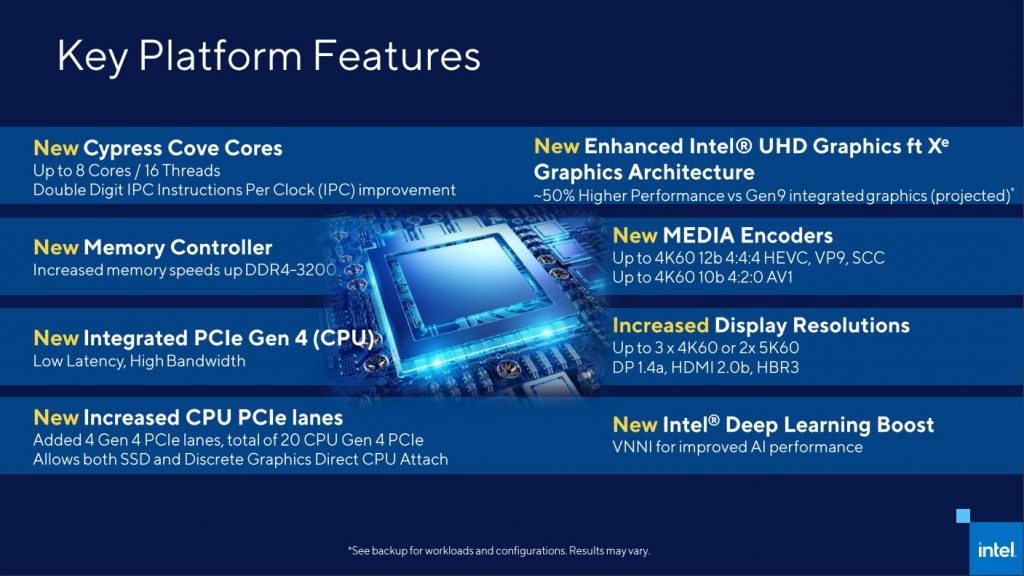 You Might Like: Intel Core i9-11900K (Rocket Lake-S) will have power consumption of 250W
The Intel Rocket Lake-S desktop processors built on a new Cypress Cove microarchitecture @ 14nm +++ adaptation of the Sunny Cove that brings Intel Ice Lake portable processors to life in a 10nm manufacturing process. Due to the size, the company will be forced to limit its processors to a maximum of  8 cores and 16 threads.
According to the company, the main advantages are an improvement in the IPC (which we only know is double-digit compared to an Intel Core i9-10900K), the improvement of the integrated graphics by implementing the Intel Xe-LP, PCI-Express 4.0 interface with up to 20 lines, controller for DDR4 @ 3200 MHz memory, and the addition of USB 3.2 Gen 2×2 @ 20 Gbps ports.
According to rumors, the Intel Core i7-11700K is expected to cost less than $ 400 versus a Core i5 would cost less than $ 300. Very cheap prices, but credible, since Intel has the disadvantage of multi-core performance, power consumption and temperature.
Unfortunately, the Rocket Lake-S feels like a mere patch until the arrival of a true new generation of CPUs, the Alder Lake-S, which promise to arrive at the end of 2021. As long as this patch of Rocket Lake-S arrives with very good prices, it will be an option for the gaming market, but the first half of the year is the least suitable time to update the CPU, since together with the Alder Lake-S, we will have the AMD Ryzen 6000 in the competition.