Intel announced the launch of its new family of SSDs Intel Optane SSD DC P4800X, which stands out for its high performance, which is why we are facing a unit specially designed for data centers where a large storage capacity is required along with high speeds. In this case this has begun to translate into the availability of a single unit (for now) of 375 GB capacity that offers read speeds of up to 550 Mbps and a 500 Mbps write, its durability is translated in no less than 13.3 Petabytes of written data per year with 3 year warranty. Additionally, you can pay more for a 5 year warranty and 20 Petabytes.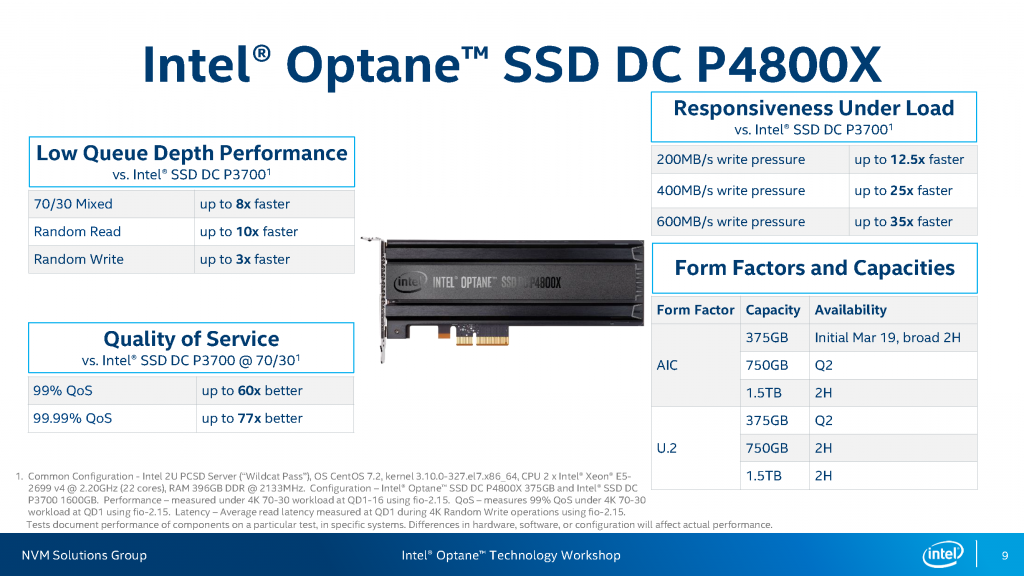 While its performance is not surprising compared to traditional high-performance SSDs, we must remember that we are dealing with a type of device that not only works like traditional NAND Flash memory, but also allows the computer to have a much higher memory density DRAM, because both factors combine, having storage and RAM in the same unit, resulting in a more economical option than adding a large amount of RAM specifically (extended RAM). Also in terms of power consumption Intel claims, says that its Optane drives will automatically accelerate existing applications and claims that the P4800X will consume roughly 12-14 watts under a heavy load.
The first Intel Optane SSD DC P4800X to arrive comes with 375 GB capacity at a price of $ 1,520, hoping that later models of 750 GB and 1.5 Terabytes will arrive in a format U.2 (375GB, 750GB and 1.5 TB).