Since August, we have been hearing more about Intel 7th generation CPU line-up called as the Kaby Lake. Since then, more details regarding the 7th generation line up have been emerging regarding the specs, design, features and today, a picture of the Kaby Lake Core i5 7600K was spotted on the internet, thanks to the folks at Chinese forums.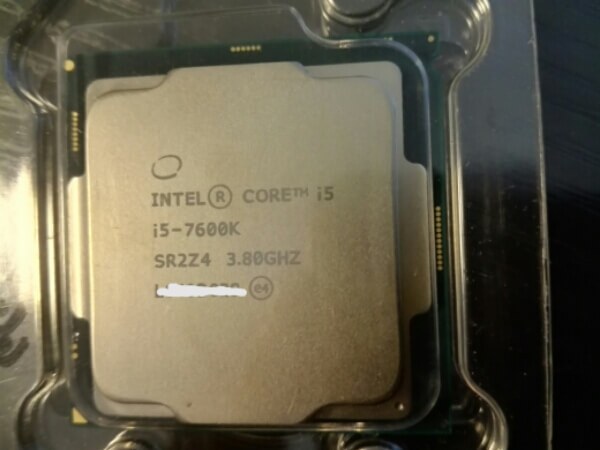 As we can see in the picture, the Core i5 7600K comes with the base clock speed of 3.80GHz. Beside the picture of this 7th generation Core i5, the forum also shared a little image taken from CPU-Z which shows that the CPU is running at the TDP of 91W.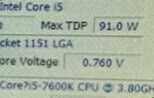 Intel Core i5 7600K is a 4 core processor, with base clock of 3.80GHz and is capable of going further beyond 4GHz. The chip is supported with the socket LGA 1151 that includes L3 Cache of 6MB and Max TDP of 95W. According to the reports, The Kaby Lake will be Intel's third and final CPU flag ship based on 14nm FinFET, launching in the early 2017. After that, the company will be start working on 10nm based Cannonlake CPUs. The new CPUs offer native support for several existing technologies such as USB 3.1, HDCP 2.2 and Thunderbolt 3.
Apparently, the Core i7 7700K is the most powerful 7th generation processor with having 4 cores and 8 threads, 8MB of L3 Cache with Max TDP of 95W. Though it comes with the base clock of 4.2GHz, but it can be further pushed till 4.5GHz.
Two months ago during the Intel Developer Forum 2016, the company showcased its 7th generation integrated GPU running Overwatch at 4K resolution, indicating its head to head iGPU competing against AMD's APU integrated graphics processing unit. Initially, Cannon Lake, a successor to Kaby Lake, was scheduled for launch this year. But Intel changed its mind and went on with Kaby Lake, pushing the 10nm-based line-up for 2017. Stay tuned for more updates!
See Also: Leaked Specifications of Intel Kaby Lake CPUs