The Chinese review website bilibili, published the first gaming benchmarks of the replacement of the popular Core i5-9400, the i5-10400 manages to be on par with the Core i7-9700F (F indicates that it does not have an iGPU).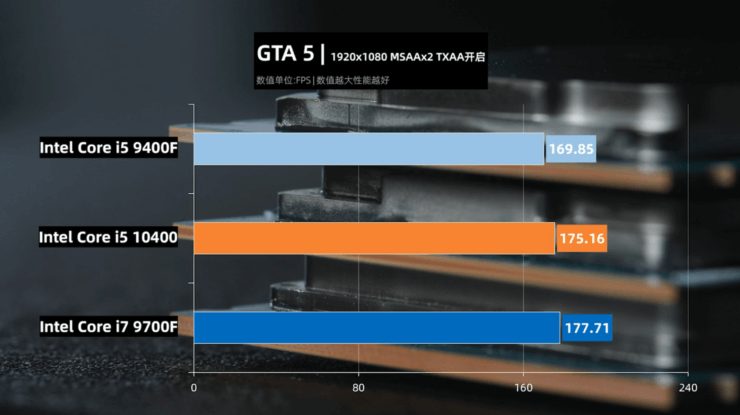 In Assassin's Creed Odyssey, the i5-10400 ranks four FPS above its successor, the Core i5-9400F, and outperforms the Core i7-9700F by two FPS.
In Grand Theft Auto 5, the i5-10400 ranks six FPS above its successor the Core i5-9400F, but nearly three FPS below the Core i7-9700F.
In the third game, which could be Far Cry 5 or Gears 5 , the i5-10400 outperforms the Core i5-9400F by seven FPS, in turn managing to outperform Core i7-9700F by one FPS.
Although the FPS are very high in all cases and the performance margins while running the benchmarks are always not very consistent, but it is good to know that the new i5-10400, apart from not being very far from the Core i5-9400F, at even same price ($182) manages to match the performance of the previous generation Core i7, which did not have Hyper Threading.
For those who don't know, in 10th Gen Comet Lake-S CPUs, Intel has chosen to add Hyperthreading to the entire line of processors (except for the first two Pentium models), so some titles should see a performance improvement compared to the ninth generation, perhaps outperforming the popular Ryzen 5 3600 ($ 175), which is already very close to the Core i5-9400F in games.
Reviews from other third-party sites will be available on May 27. Though in the first wave, only K-SKUs will be available for sale.