Last night Intel announced the launch of its top-of-the-range CPUs for the Intel LGA2066 platform with Intel X299 chipset, featuring an impressive Core i9-7980X consisting of 18 physical cores and 36 threads (with HyperTheading) at a Base / turbo frequencies of 2.60 / 4.20 GHz supported by 24.75 MB of Level 3 (L3) cache, 1 MB of L2 cache per core, support for 44 PCI-Express lines and up to 128 GB of DDR4 @ 2666 MHz memory in a Quad Channel configuration with a TDP of 165W.
After the launch, we have the first Overclocking tests in which the new flagship CPU managed to bring 18 cores to a frequency of 6.10 GHz, but the most interesting thing is the consumption generated by the CPU at such speed, no less than 1,000 watts.
The well-known Overclocker Dercsauer, removed the encapsulation of the CPU and used liquid nitrogen for Overclocking tests on the Asus ROG Rampage VI APEX motherboard. In order to give an idea of ​​the harvested performance, the Ryzen Threadripper 1950X, with 16 cores @ 5.40 GHz by liquid nitrogen, reached a score of 4,514 points in the Cinebench R15, while the Core i9-7980XE only passed in a stable @ 5.60 GHz, despite this, scored an impressive score of 5,635 points.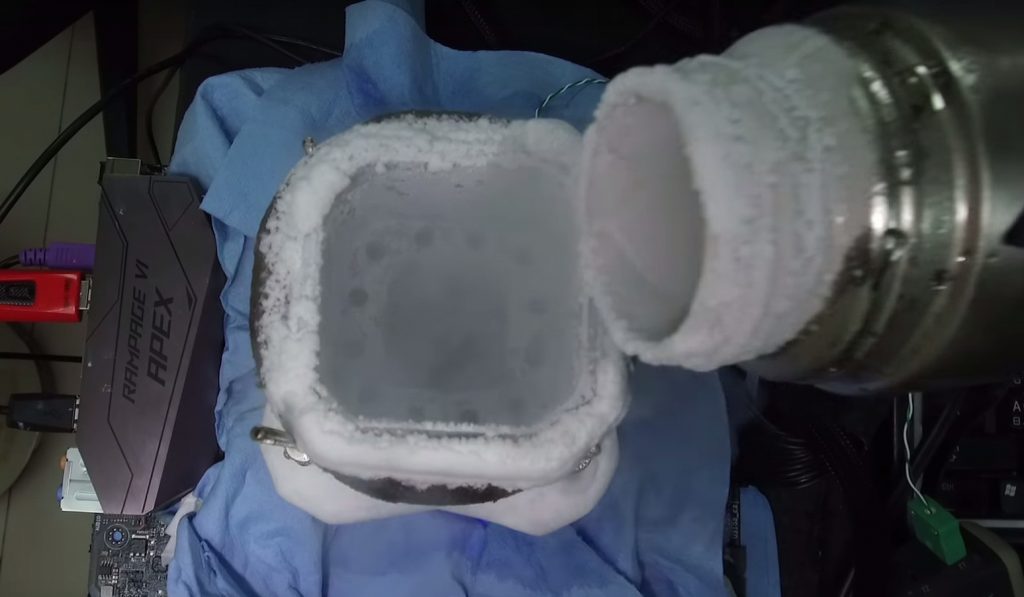 With regard to the consumption of the Core i9-7980X, to reach a 5.50 GHz safe, the line of 12v had to supply 70A, which translates into a consumption around 840W, consumption that shot up to 1,000W @ 5.80 / 6.00 GHz with vCore voltage of 1.45v.
Along with a GeForce GTX Titan Xp, the processor at 5.50 GHz yielded a score of 45,705 points in the 3DMark 11, 35,782 points on the Fire Strike and 120,425 points on the 3D Mark Vantage.