Through the Chinese ChipHell forum, we have stress test details of an Intel Core i9-11900KF, a processor that was tested with reference frequencies to the limit, and this implies stressing its 8 cores to its maximum operating frequency, 4.80 GHz using 360 mm AIO water cooling system (360 mm radiator + 3x 120 mm fans), and despite all this, processor almost reached 100ºC in the AIDA64 stress test. Specifically, it reached 98ºC, when its full potential was demanded, which implies an power consumption of 250W.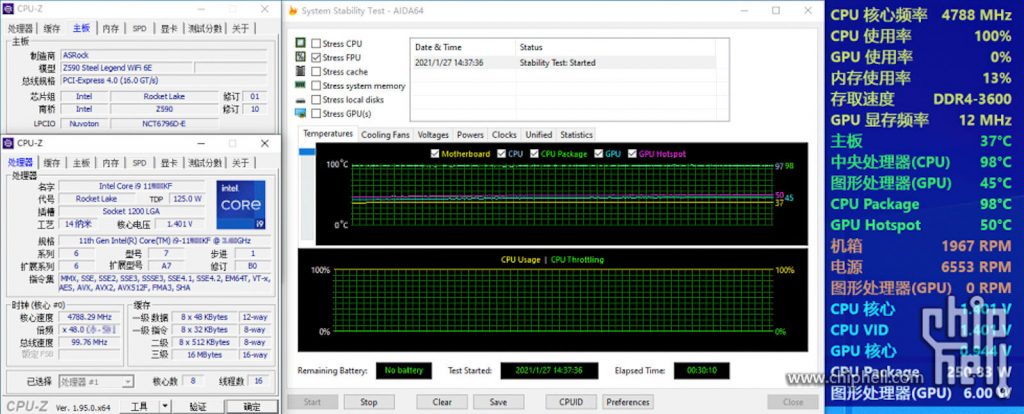 You Might Like: Intel Core i9-11900K @ 5.20 GHz kicks off new year with promising benchmarks
It should be remembered that the Intel Core i9-11900KF comes with the integrated graphics disabled, while the CPU-Z revealed a voltage of 1.401v to reach these Turbo frequencies when all 8 cores work simultaneously.
Intel Rocket Lake-S processors continue to use the 14nm +++ manufacturing process, but under the Cypress Cove architecture, a 14nm adaptation of the Sunny Cove @ 10nm architecture. These CPUs will arrive at the end of March-2021 with the release of PCI-Express 4.0 interface and without offering any claims that make users wait to see what happens with Alder Lake-S at the end of the year.
Intel Rocket Lake-S Leaked Specs

Model

Nuclei

Base Freq

Turbo Freq




All Cores

Freq. Turbo




1 core

TDP

11th Gen Intel Core Rocket Lake-S

i9-11900K (F)

 8N / 16H

 3.50 GHz

 4.80 GHz (TVB)

 5.30 GHz (TVB)

 125W

i9-11900 (F)

 8N / 16H

 2.50 GHz

 4.70 GHz (TVB)

 5.20 GHz (TVB)

 65W

i7-11700K (F)

 8N / 16H

 3.60 GHz

 4.60 GHz

 5.00 GHz

 125W

i7-11700 (F)

 8N / 16H

 2.50 GHz

 4.40 GHz

 4.90 GHz

 65W

i5-11600K (F)

 6N / 12H

 3.90 GHz

 4.60 GHz

 4.90 GHz

 125W

i5-11600 (F)

 6N / 12H

 2.80 GHz

 4.30 GHz

 4.90 GHz

 65W

i5-11500 (F)

 6N / 12H

 2.70 GHz

 4.20 GHz

 4.60 GHz

 65W

i5-11400 (F)

 6N / 12H

 2.60 GHz

 4.20 GHz

 4.40 GHz

 65W

11th Gen Intel Comet Lake-S Refresh

i3-11305

 4N / 8T

 3.80 GHz

N / A

N / A

 65W

i3-11105

 4N / 8T

 3.70 GHz

N / A

N / A

 65W

i3-11100

 4N / 8T

 3.70 GHz

N / A

N / A

 65W