We already have new performance tests of the Intel Core i7-8700K, the flagship processor of the Intel Coffee Lake family belonging to the 8th Generation that will arrive on 5 October, 2017 along with the new motherboards equipped with the Intel Z370 chipset.
In terms of specifications, Intel Core i7-8700K offers 6 physical cores and 12 logical cores (with HyperThreading) at a Base / Turbo frequency of 3.70 / 4.30 GHz, speed that can increase even more when the cores are deactivated. With 4x cores it reaches 4.40 GHz, 2x 4.60 GHz, while with a single core the processor will run at 4.70 GHz. All this under a 95W TDP accompanied by 1.5 MB of level 2 cache, divided into 256 kB per core, along with 12 MB L3.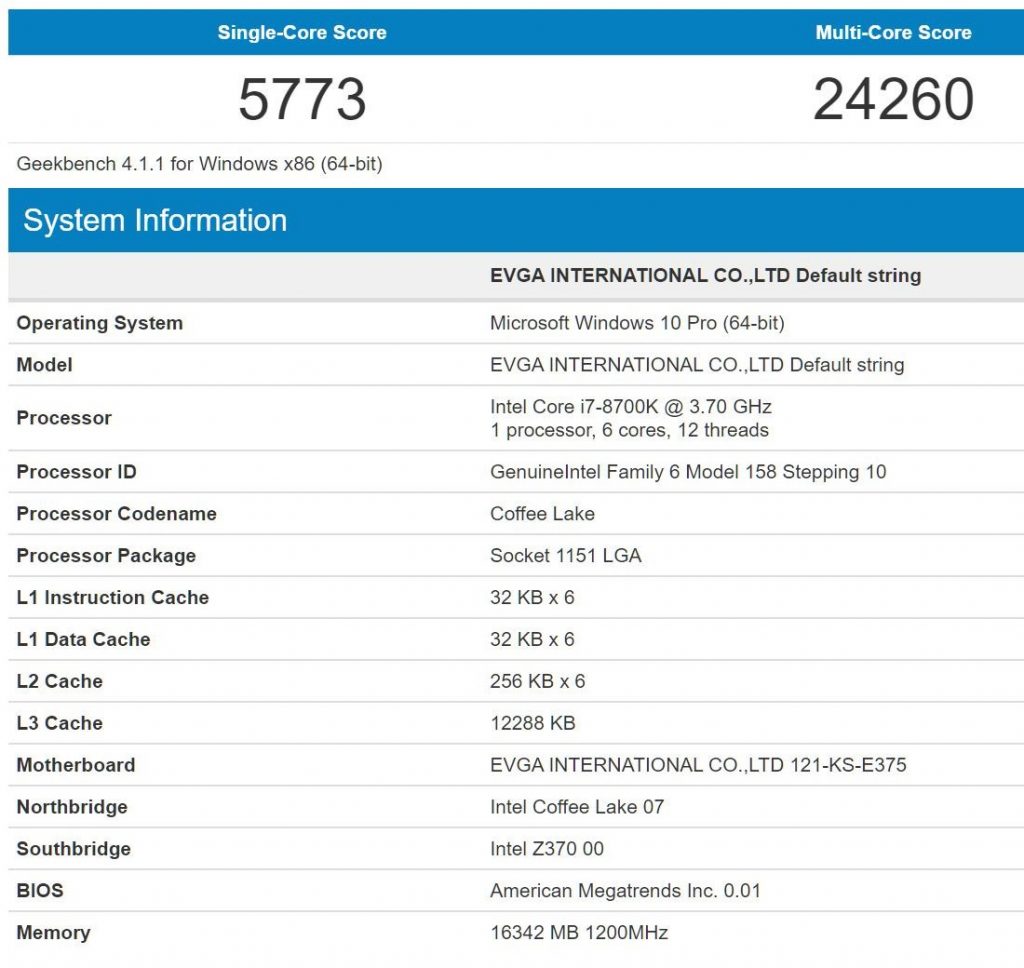 After passing through Geekbench database, the Core i7-8700K scored 5,773 points in single-core test compared to the 4,900 points of AMD Ryzen 7 1800X, although when using all cores, the Intel processor reached the 24,260 points against 28,000 points by the Ryzen 7 1800X, so it is not a bad score, as the Ryzen 7 1800x is equipped with two additional physical cores and four threads, makes a slight difference of 4,000 points.
Intel 8th Generation Coffee Lake Series Specifications

Processor
Core / Threads

Base Freq.

6x Turbo
4x Turbo
2xTurbo
1x Turbo
TDP
Core i7-8700K
6N / 12H
3.70 GHz
4.30 GHz
4.40 GHz
4.60 GHz
4.70 GHz
95W
Core i7-8700
6N / 12H
3.20 GHz
4.30 GHz
4.30 GHz
4.50 GHz
4.60 GHz
65W
Core i5-8600K
6N / 6H
3.60 GHz
4.10 GHz
4.20 GHz
4.20 GHz
4.30 GHz
95W
Core i5-8400
6N / 6H
2.80 GHz
3.80 GHz
3.90 GHz
3.90 GHz
4.00 GHz
65W
Core i3-8350K
4N / 4H
4.00 GHz
/
/
/
/
95W
Core i3-8100
4N / 4H
3.80 GHz
/
/
/
/
65W