Today new leaks revealed that the Core i7-7740X is easy to overclock, the reason is quite simple, it is a Core i7-7700K with disabled integrated graphics, being able to take advantage of all the voltages for the CPU.
Based on 100 samples, the Core i7-7740K easily reaches the 5.00 GHz with a voltage of 1.205v, while in the worst case it requires 1.341v to reach 5.0GHz. Few chips, even able to reach 5.10 / 5.20 GHz , but of course, all with a higher voltage.
Intel Core i7-7740X is 2.2% faster than the Core i7-7700K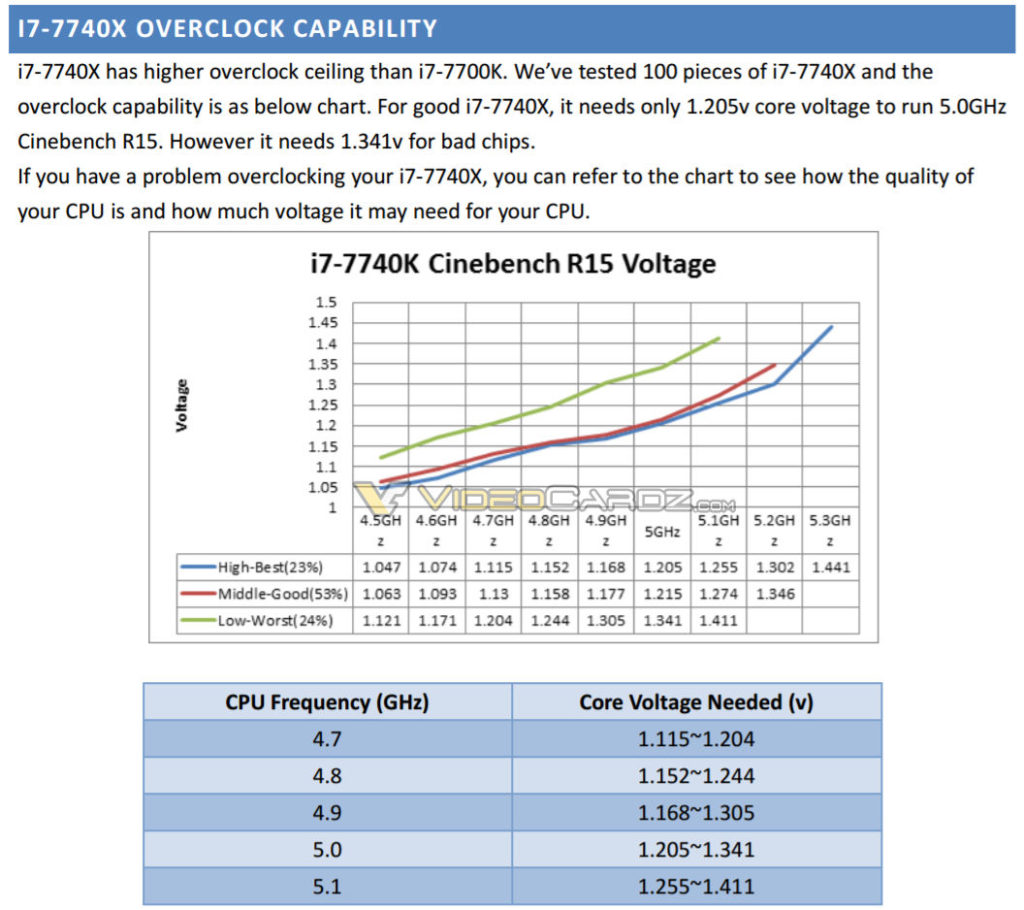 You Might Like: Intel Core i9 7900X 'Delid' Overclocked To 5GHz Using Closed Loop AIO
As we also know, Intel uses a bad thermal compound, and Kaby Lake X will not be the exception, and due to its higher voltage, at a reference frequency, squeezing the CPU to maximum will reach 87ºC using an air-cooler Heatsink, but the worse part is that with a closed-loop Corsair H110 liquid cooler temperature is still high, no less than 81 ° C, Vs the 69 ° C for Core i7-7700K with a Corsair H80i GT.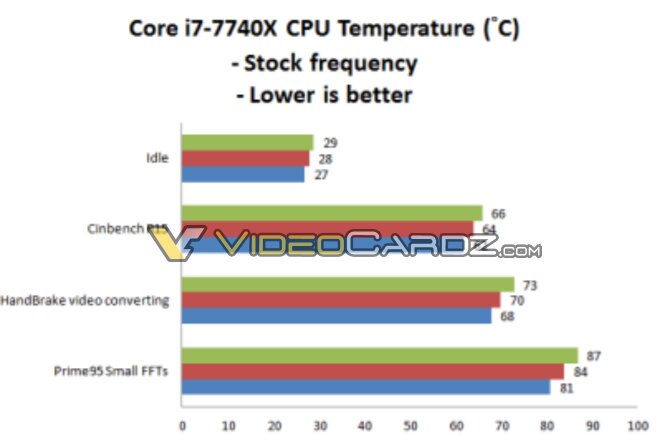 In terms of performance, as always, Intel has already prepared the typical slide promising a 15 percent increase in performance, but in the Cinebech R15, the improvement over the Core i7-7700K is a little more than 2 Percent. Nearly 3% faster on POV-Ray v3.7 Performance, 2% faster converting a video by HandBrake, almost 3% in Sandra and 1% in 3DMark Time Spy. This gives us an average of + 2.2% extra performance for the Core i7-7740X with higher power consumption, temperatures and higher price for both CPU and platform.