The Intel Core i7-7700K virtually offers no performance improvement over its predecessor, the Core i7-6700K. Intel knows this, so it increased its frequencies to mask data, yet the performance difference is between 1-3%. The only good thing about this CPU is Overclocking, but of course, for Overclocking you must have good skills to start by removing the encapsulation of the CPU, because Intel used a very cheap thermal compound which seriously affects temperatures.
Intel Core i7-7700K achieves a stable 7.02 GHz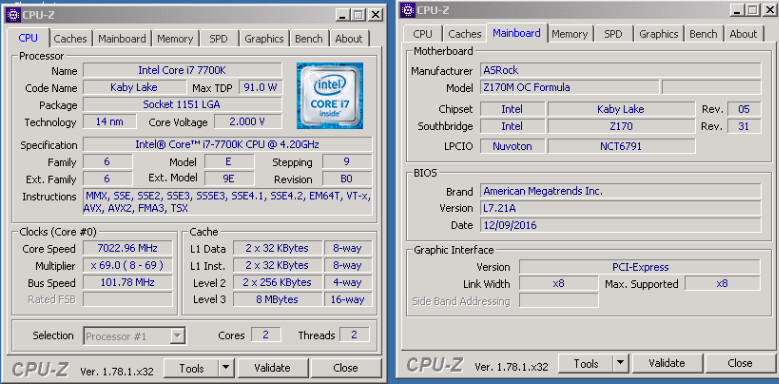 You Might Like: Prices Of i7-7700K And i5-7600K Leaked!
The Core i7-7700K fell into the hands of Overclocker Allen Golibersuch, known as Splave. With ASRock OC Formula Z170 motherboard he managed to successfully reach stable 7022.96 MHz using the maximum 69x multiplier and a Vcore to 2.00v. To achieve this milestone, he had to disable HyperThreading technology with two of the four cores offered by the CPU.
Cooled with liquid nitrogen, i7-7700K with it's two cores active managed to do a PiFast run in 9.02 seconds, 4 min and 20.25 Sec in SuperPi 32M, 2,953 in wPrime 32M, and 1 min 33.171 seconds in wPrime 1024M. Along with Asus GTX GeForce 1080 Strix OC, it reached 643,316 Aquamark points and 86,798 points in 3DMark05.
Via: TechPowerUp