Today we have leaked review of Intel's 8th Generation Coffee Lake CPUs, the Core i7-8700K and Core i5-8600K. This time again Chinese portal revealed all the details.
Before entering the comparisons, we leave you with the specifications of the most interesting CPUs that are competing from both red and blue camps.
Specifications of Intel's 8th Generation Coffee Lake CPUs

Processor
Cores / Threads
Base Freq.
Turbo Freq.
TDP
Core i7-8700K
6 / 12
3.70 GHz
4.30 GHz
95W
Core i5-8600K
6 / 6
3.60 GHz
4.10 GHz
95W
Core i7-7700K
4 / 8
4.20 GHz
4.50 GHz
91W

Specifications Of AMD Ryzen CPUs

Ryzen 7 1800X
8N / 16H
3.60 GHz
4.00 GHz
95W
Ryzen 5 1600X
6N / 12H
3.60 GHz
4.00 GHz
95W
Obviously, the Core i5-8600K becomes the most interesting option, as we have 6 physical cores along with 6 logical cores at a much lower price compared to the Core i7-8700K and you can see how the performance in games is almost identical. In applications that already take advantage of all cores and threads, the Core i7-8700K will have a sale. But… What will happen if both new CPUs face AMD Ryzen? Let's find out!
As we can see, in single-core applications the Core i7-8700K performs slightly better, thanks to those additional 200 MHz available, whereas in multi-core tasks the difference is obvious. If we put AMD in the competition, we can see that Intel does not pose any danger in multi-core applications, and it is normal, because Ryzen 7 has 2 additional physical cores along with 4 logical cores.
Fire Strike Extreme (CPU) / Fritz Chess Benchmark
We can see how the Core i7-8700K dominates, but Core i5-8600K is far behind than Ryzen 5 1600X in terms of performance. For example, in the 3DMark, the Ryzen 5 1600X is 36 percent faster than i5-8600k.
Photoshop / POV-Ray Benchmark
In this case, nothing to note, the Core i5-8600K yields almost the same as the Ryzen 5 1600X, while in the POV-Ray the results are exchanged.
Now we are going to the important thing, the games, unfortunately there is nothing remarkable, because we can see how the Core i5-8600K yields practically the same as its direct rival, the Ryzen 5 1600X, or i7-8700k. The new flagship processor from the Intel camp dominates in Ashes of Singularity, due to Core i7-8700K extra frequencies.
Rise of the Tomb Raider (4K) / Ghost Recon Wildlands (4K)
The Division (4K) / Ashes of the Singularity (4K)
For lower 1080p resolution benchmarks where games used more CPU usage, we are using benchmarks from trustworthy WASD and Lab510 sites. From the below benchmarks you can see that the games still do not take advantage of the increase cores, so a Core i7-8700K performs virtually the same as a Core i7-7700K at 1080p.
From the below results, you can see that Core i5-8600K presents very good temperature, almost same as the Ryzen 5 1600X, but not everything could be good, because the Core i7-8700K is 20ºC hotter than Ryzen 7 1800X.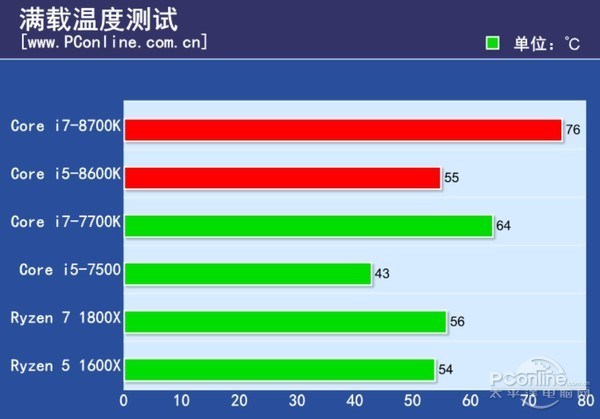 In terms of consumption, the Core i5-8600K whole system gives a power consumption of 381W, + 27W compared to Ryzen 5 1600X, + 17W compared to Ryzen 7 1800X, and the Core i7-8700K stands out at 421W  (+ 40W with respect to the i5-8600k). There is nothing to worry about here, higher speeds = higher consumption and not to mention an already quite expressed architecture.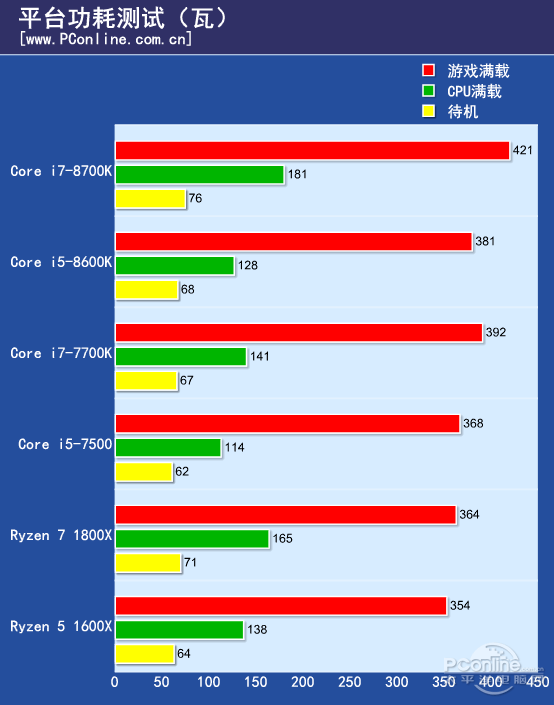 Conclusion
From the above results we can see that Intel Core i5-8600K is a revolutionary CPU, of course, if we only talk about Intel, since the addition of the two additional CPU cores are always appreciated, but if this had happened 1 or 2 years ago then it would have been a bomb.
Now, this incorporation of cores seems like a forced movement from the blue giant with recycled architecture continue to endure the passage of the year, and in front of the Ryzen 5 1600X, does not offer anything new. The CPU from AMD camp is more powerful, consume less power, runs cooler and in applications, games or streaming where a greater number of cores are taken advantage of, it gives a notorious advantage.
If we add that users with an LGA1151 board cannot simply switch the CPU, but they are forced to make the leap to the Intel Z370 platform, obviously in case I personally believe that folks should look toward to more future proof jump (AMD has already promised AM4 socket support till 2020). Intel would also launch two more generations of CPUs in 2018 (Cannon Lake and Ice Lake) so keep this in mind too. If we talk only about games, then switching to the new generation is not a worthy decision if you are already using CPUs from last 2 or 3 generations.
You Might Like: Intel Coffee Lake CPUs would be available in limited quantity until 2018