We have here new leaked details about the performance of the Intel Core i5-7600K, Intel CPU Kaby Lake high-end processor from the Core i5 family faces its predecessor, the Core i5-6600K based on Skylake architecture, although both share the same manufacturing process of 14nm. Apart from the i5-6600k, Core i5-7600K also faces against the Intel Core i7-6700K.
Before talking about the performance tests, lets talk about the specifications of the new processor. Intel Core i5-7600K comes with four cores at a Base / Turbo frequency of 3.80 / 4.20 GHz keeping the 4 – threads and 6MB of Level 3 cache. On the other side, Intel core i5-6600K operating at 3.50 / 3.90 GHz, so the Kaby Lake CPU already has improved CPI due to the additional 300 MHz per core.
Intel Core i5-7600K Vs i5-6600K: Up to 10% faster in multi-thread Performance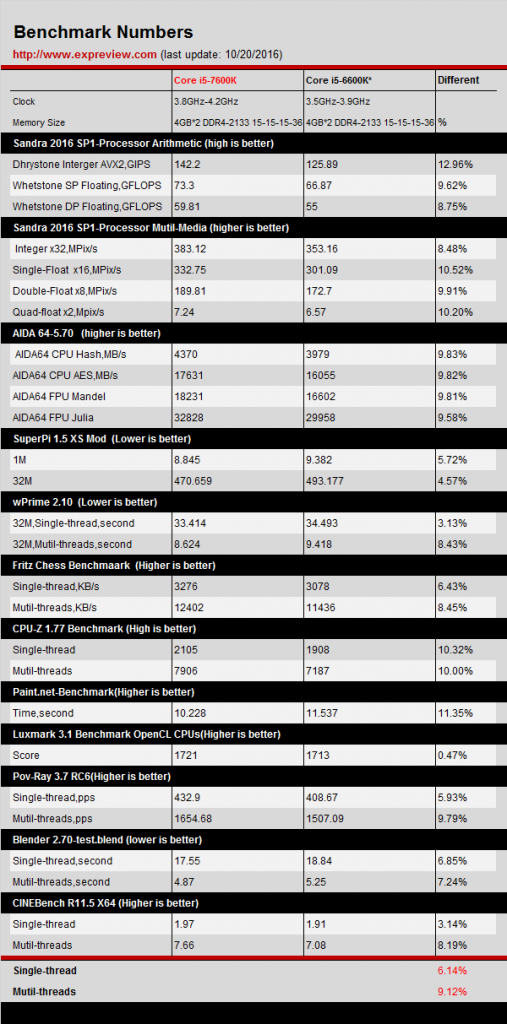 You Might Like: Intel Kaby Lake Core i5 7600K Pictured, Specifications Revealed
From the above test we can see that the new processor was 6.14% faster single-threaded performance and 9.12% faster multi-thread performance. In gaming, the Core i5-7600K was around 4% faster.
When we compared to the king of the current Skylake generation, the Core i7-6700K with four cores @ 4.40 / 4.20 GHz and Turbo equaling the frequencies, but with 8 processing threads for the Core i7, we see the core i5-7600K is almost 3% faster in single-threaded performance, but in multi-core applications i7-6700k is almost 19% faster. In gaming, i5-7600k is 6% slower in performance compared to Core i7-6700K.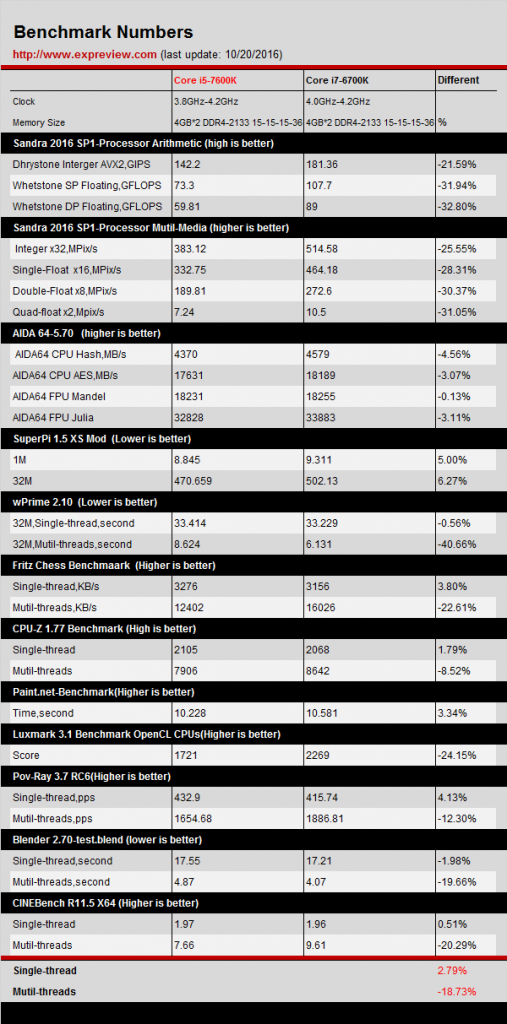 Intel 7th Generation 'Kaby Lake' Desktop Lineup
| SKU Name | Cores/Threads | Core Clock | L3 Cache | TDP | Socket |
| --- | --- | --- | --- | --- | --- |
| Core i7-7700K | 4/8 | 4.2 GHz | 8 MB | 91W | LGA1151 |
| Core i7-7700 | 4/8 | 3.6 GHz | 8 MB | 65W | LGA1151 |
| Core i7-7700T | 4/8 | 2.9 GHz | 8 MB | 35W | LGA1151 |
| Core i5-7600K | 4/4 | 3.8 GHz | 6 MB | 91W | LGA1151 |
| Core i5-7600 | 4/4 | 3.5 GHz | 6 MB | 65W | LGA1151 |
| Core i5-7600T | 4/4 | 2.8 GHz | 6 MB | 35W | LGA1151 |
| Core i5-7500 | 4/4 | 3.4 GHz | 6 MB | 65W | LGA1151 |
| Core i5-7500T | 4/4 | 2.7 GHz | 6 MB | 35W | LGA1151 |
| Core i5-7400 | 4/4 | 3.0 GHz | 6 MB | 65W | LGA1151 |
| Core i5-7400T | 4/4 | 2.4 GHz | 6 MB | 35W | LGA1151 |
| Core i3-7300 | 2/4 | 4.0 GHz | 4 MB | 51W | LGA1151 |
| Core i3-7310T | 2/4 | 3.4 GHz | 3 MB | 35W | LGA1151 |
| Pentium G4620 | 2/4 | 3.8 GHz | 3 MB | 51W | LGA1151 |
| Pentium G3950 | 2/2 | 3.00 GHz | 2 MB | 35W | LGA1151 |
| Pentium G3930 | 2/2 | 2.90 GHz | 2 MB | 35W | LGA1151 |
Via: Expreview and PCOnline