Prior to NDA expiry which ends on the 5th of January some tech sites have already posted several reviews of Intel 7700K. The first performance review of Intel's Core i3-7350K Kaby Lake processor has been published by Hardware Unboxed. So finally we can officially talk about this CPU, which offers two cores @Turbo frequency of 4.20 GHz supported by Intel Hyper Threading technology to add two logical cores, and all accompanied by 4MB of Level 3 cache (L3) with a TDP of 60W. The new CPU is based on a Kaby Lake architecture under a new manufacturing process 14nm +, hence there is practically no improvements over Skylake.
Summarizing the data, we can see at reference frequencies, Intel Core i3-7350K performs same as Intel Core i5-2500K processor, which was released in 2011 making it around 6 years old CPU when Kaby Lake CPUs will be launched. The new Kaby Lake processor is only showing a greater difference in single-core applications due to its higher frequency. We can only in Cinebench R15, Core i3-7350K wins by 7 points with multi – core, in PCMark 8 Core i5-2500K earns 178 points and also won the Excel 2016.
Intel Core i3-7350K Performs Almost Same As Core i5-2500K Released In 2011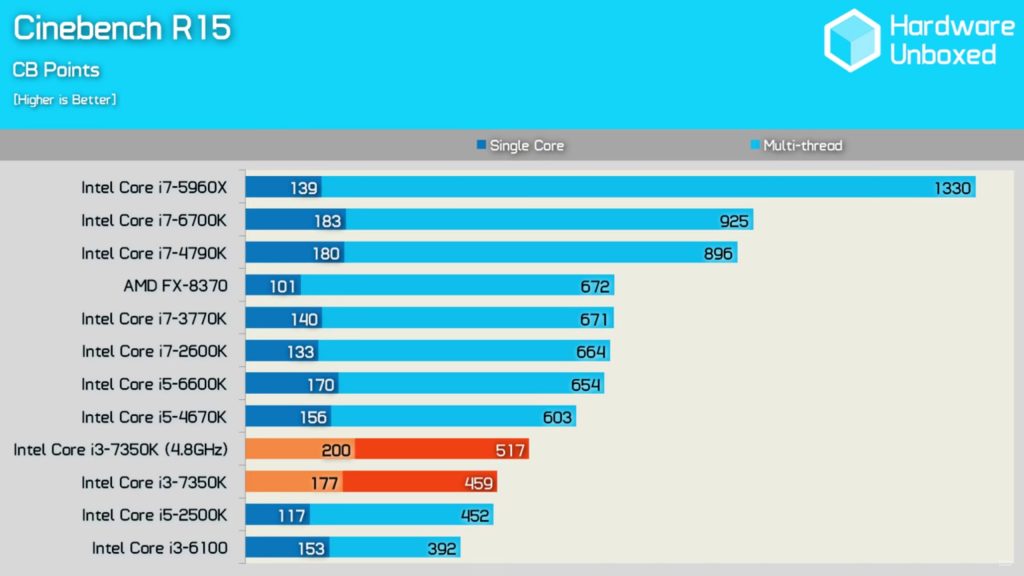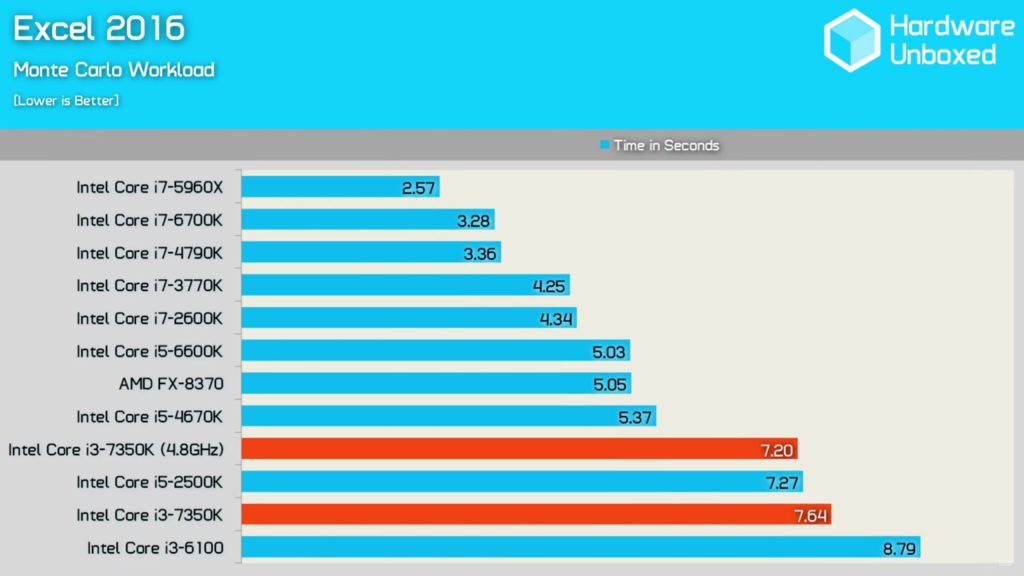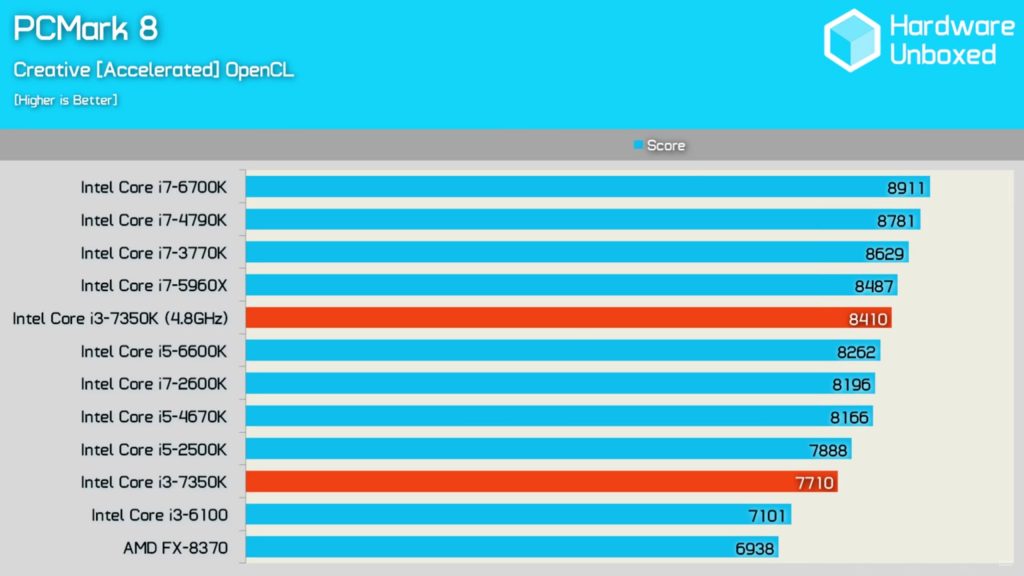 Intel Core i3-7350K Gaming Performance:
In gaming benchmarks the history repeats itself, the 4.20 GHz (Vs 3.70 GHz) helps an extra performance in Overwatch translates into 14 additional FPS, 5 FPS in Watch Dogs 2, and 4 additional FPS in Battlefield 1. The most "curious" of all, not to say suspicious, is that DirectX 12 compatible games were run with DirectX 11, when DirectX 12 would take advantage of having 4 physical cores.
Conclusion
The Intel Core i3-7350K is a powerful CPU, with 47W less power  consumption than the Core i5-2500K, but normal comparing architectures 14nm vs 32nm +.
Another positive point is that you can further OC it to 4.80 GHz, but a power consumption level will place it above a Core i7-6700K with 70 ° C.
The negative point which might ends all positive points is the price, which would be around 180-200 euros, at this price you can easily buy Intel Core i5-6500 @ 3.60 GHz or Intel Core i5-6400 @ 3.30 GHz processors with 4 physical cores promising similar or better performance than Core i3-7350K @ 4.80 GHz with less power consumption and lower temperatures.