Intel has unveiled the Coffee Lake processor family, where we will find a total of 6 new models all offering 4 and 6 cores. According to Intel, these new processors have been designed for gamers, Overclockers and content creators.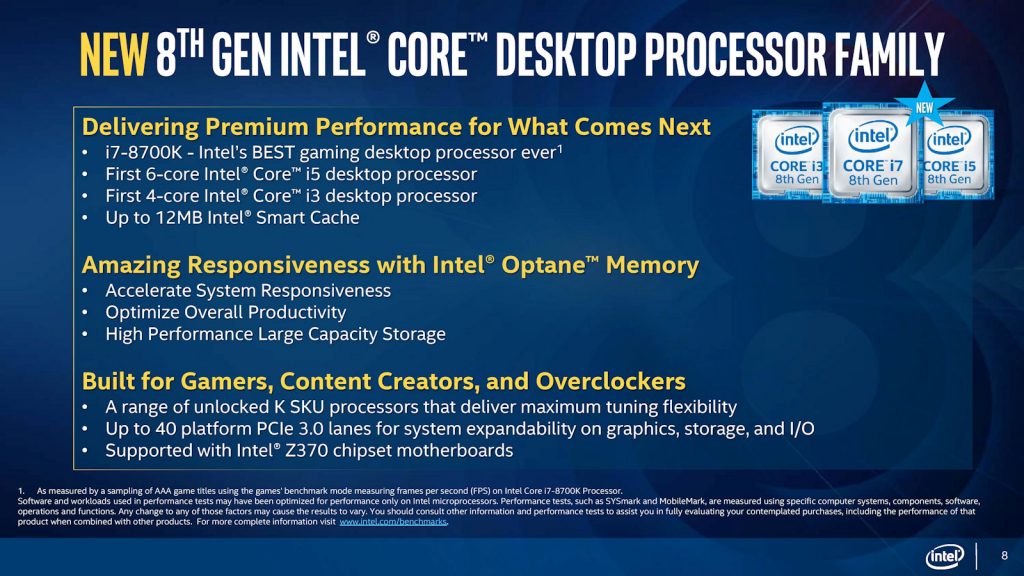 These high-end processors will reach up to six cores and twelve processing threads, in addition, family processors with the letter K will be unlocked for Overclocking and support up to 40 PCIe lines.
According to Intel, gaming processors have seen a 36% increase in sales over the last five years, there are about 130 million content creators using Intel processors and Overclocking processors sale have increased by 80% from Q2 2014 to Q2 2017. These are the three potential markets that Intel is currently focusing with Coffee Lake CPU family. These processors also have more cores, have more Intel Smart Cache memory, manufactured at 14nm process node, which allows energy saving.
Processor
Cores / Threads
Frequency Base
Frequency Turbo
TDP
Base Memory Supported
 i7-8700K
6C / 12T
3.7 GHz
4.7 GHz
95W
2666 MHz
 i7-8700
6C / 12T
 3.2 GHz
4.6 GHz
65W
2666 MHz
 i5-8600K
6C / 6T
3.6 GHz
4.3 GHz
95W
2666 MHz
 i5-8400
6C / 6T
2.8 GHz
4.0 GHz
65W
2666 MHz
 i3-8350K
4C / 4T
4.0 GHz
N / A
91W
2400 MHz
 i3-8100
4C / 4T
3.6 GHz
N / A
65W
Intel also revealed that new Z370 motherboards are more efficient with processors up to six cores, with great potential for Overclocking and support for DDR4 memories at a base frequency of 2666MHz. We remind you that these motherboards will not support Kaby Lake and Skylake processors and the motherboards of these older generations will not support the Coffee Lake processors.
It is confirmed that the i7 8700K will be the flagship processors in the 8th generation with six cores and twelve processing threads, while the Core i5 will have six cores and six threads and the Core i3 will have four cores and four threads. In addition, these processors will reach a maximum of 12MB of Intel Smart Cache. These processors add enhanced support for Intel Optane, optimized productivity for these drives and support for higher capacity performance.
For gaming, these processors will be excellent and according to data by Intel, the Core i7 8700K will offer up to 195FPS in Gears of War 4, although we do not know with which graphics card. This represents a 25% increase in FPS compared to the previous generation. In addition, these processors in the Gaming + Stream + Recording offer 45% more performance in the PlayerUnknown's Battlegrounds with respect to seventh-generation processors.
Intel has also improved core Overclocking capabilities. The memory ratio is improved to 8,400MT / s, real-time memory latency control has been improved and the PPL settings have been adjusted. In addition, support for Intel Extreme Tuning Utility and Intel Extreme Memory Profile 2.0 is supported.
Intel's 8th generation Coffee Lake processor family processors will arrive on 5 October.