Today, we came across the leaked slide pertaining to the Intel Arc Alchemist graphics card lineup, that is, the company's family of gaming Graphics cards. The leaked slide revealed that the company's most basic GPU, with a consumption of 75W will come to compete with the Nvidia GeForce GTX 1650, and this will do it at a price that will be around 200 dollars.
Now we go to the area of ​​the graphics card that interests the most, knowing that we will have another silicon that, depending on its configuration, can work from 175 to 225W to cover the range of performance and enthusiast, where it is indicated that the most powerful Intel Arc model is comparable to the Nvidia GeForce RTX 3070 and the AMD Radeon RX 6700 XT at a maximum price of $ 499. This benchmark of performance is also the one that has been rumored for quite some time now.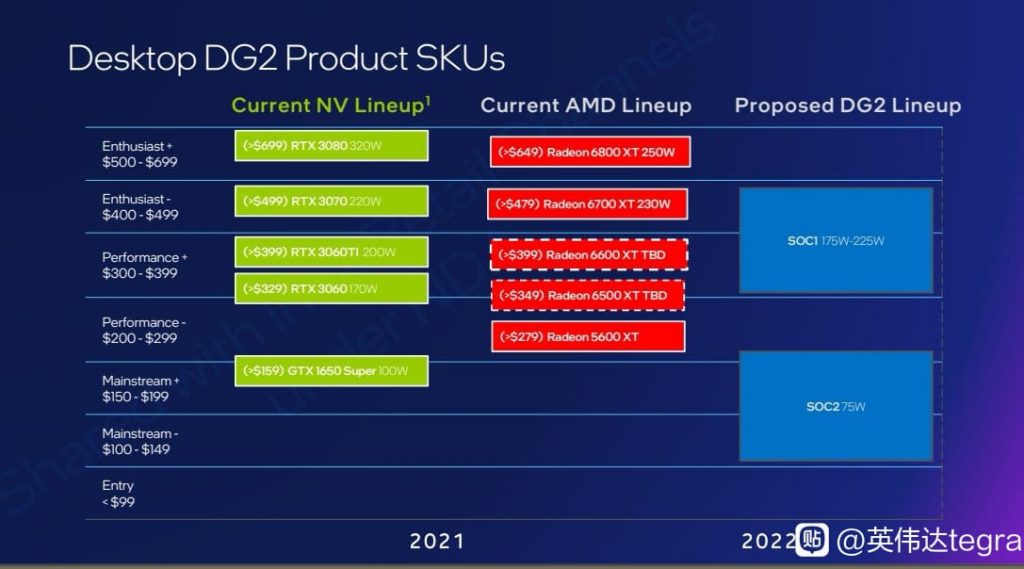 You Might Like: Intel to launch ARC graphics cards with DLSS-like Technology in Q1 2022
As can be seen from the above leaked slide, the recommended prices of graphics cards are compared with the competition. But in reality, these prices are no longer valid, for example the GeForce RTX 3070 is listed for $ 499, at the moment of truth, if it is in stock, it can easily cost more than $ 1,000, so it will be interesting to know if Intel will actually launch its GPUs at the recommended price, something that would really end up wrecking the market and rapidly undermining the market share of both Nvidia and AMD.
Luckily, January is not too far, where the official announcement is expected (CES 2022).