At Computex 2017, Intel representative distinguished very ambitious statement. The company said that in its latest testing of 8th generation Coffee Lake, it's "seeing a performance improvement of more than 30 percent" compared with the 7th Generation Kaby Lake, based on a SYSmark benchmark.
Intel: 8th Generation Coffee Lake CPUs Are 30% Faster Than Kaby Lake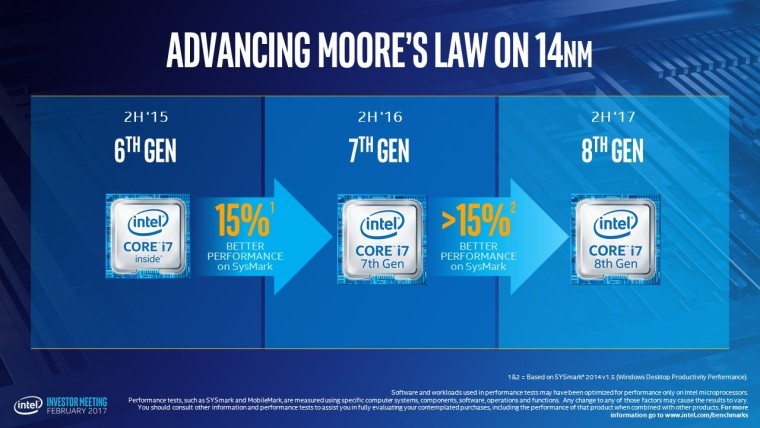 "Earlier this year you probably heard we committed to getting a 15% performance improvement as we went from 7th generation to 8th generation core," said Bryant. "But you know our engineers, they weren't satisfied with that, they didn't want to stop there. They knew that they could do better and they dug in. 

"Now I'm happy to report the 8th generation is going to deliver more than double that. That's right, more than 30% performance improvement generation over generation."
Intel Coffee Lake sticks to the 14nm fabrication process, we've seen Intel using since 2014's Broadwell, although it will be based on the newer architecture found in Skylake and Kaby Lake. For benchmarking, Mobile Core i7-7500U (2 cores / 4 stream 2.7 / 3.5 GHz, TDP 15 W) represented the Intel Kaby Lake family and on the other side, yet nameless chip, manufactured at an improved 14-nm process technology with four processing cores with support for Hyper-Threading, Turbo Boost is characterized by a frequency of 4 GHz and rated TDP of 15 watts represented Coffee Lake.
Thus, a common feature of the processors is their nominal TDP level – 15W. On the one hand, twice the number of cores in the mobile CPU compared to current solutions cannot be justified as a fair comparison.
The big question now is what Coffee Lake can offer us now that Kaby Lake and Ryzen can't. Ultimately, it's going to come down to price, and whether Intel can deliver faster chips with a cheaper price tag.