As it is known, in addition to the new HEDT-platform Intel plans this year to introduce a family of desktop processors Coffee Lake, which will work in tandem with motherboards based on the Intel 300 series chipset. The foreign media has posted a fresh roadmap from blue giant, revealing the timing of the first six-core, quad-core and dual-core processors based on the new microarchitecture.
Intel 8th Gen Coffee Lake-S Six and Quad-Core Desktop Processors On The Way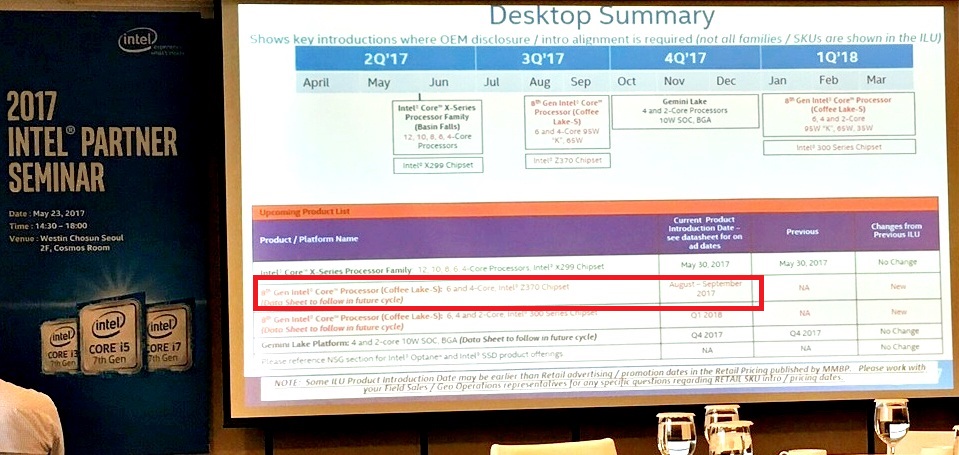 You Might Like: Intel: 8th Generation Coffee Lake CPUs Are 30% Faster Than Kaby Lake
According to the new roadmap, the launch of Intel 8th Gen Coffee Lake-S processors along with motherboards based on Intel Z370 chipset will take place between August and September this year. At first Intel will launch only 6-core and 4-core K-series processors, targeted at gamers and computer enthusiasts.
New products will have an unlocked multiplier to increase frequencies and will be characterized by a rated TDP of 95 and 65 watts. In the meantime, release the rest of the Coffee Lake-S family chips along with a full line of Intel 300 Series Chipsets is scheduled for the first quarter of 2018.
Intel Coffee Lake sticks to the 14nm fabrication process, we've seen Intel is using since 2014's Broadwell, although it will be based on the newer architecture found in Skylake and Kaby Lake. Unfortunately, the new processors will receive a LGA1151-V2 socket and will not be supported by existing motherboards with LGA1151 socket. So, if you are interested in switching to a new generation from Intel then start saving for motherboard too.
The big question now is what Coffee Lake can offer us now that Kaby Lake and Ryzen can't. Ultimately, it's going to come down to price, and whether Intel can deliver faster chips with a cheaper price tag.
Source: 3DCenter