Nintendo Switch is practically based on a modular design that would allow us not to worry about maintenance or even repairing even after the 2 year warranty. You can easily open it to perform a fairly simple maintenance (changing the thermal paste or cleaning) or even to replace some components. Today iFixit has confirmed that the console is easily repairable by giving it a score of 8 possible points.
Nintendo Switch Teardown: Easy To Repair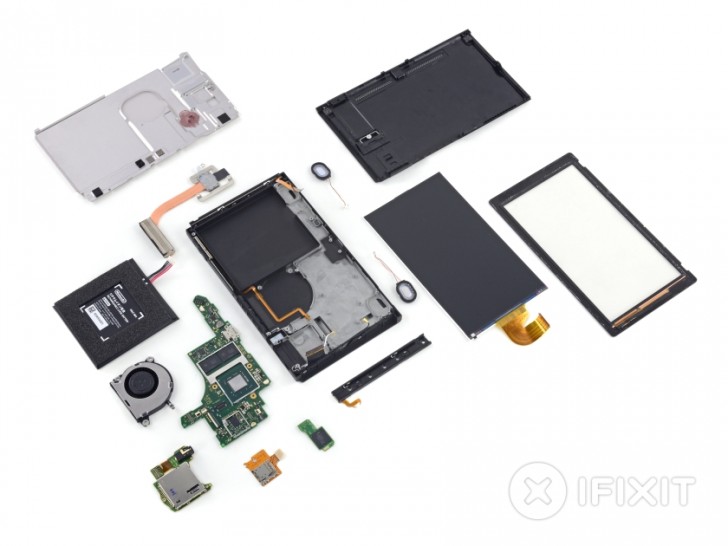 You Might Like: Nintendo Switch Facing "Blue Screen of Death" Issue
Some of the key points of the Nintendo Switch are:
The console uses tri-point screws, which are less common and probably most people will have a screwdriver for it. But apart from that there are no more complications in the design and you can remove everything easily if you have the proper screwdriver.
The Nintendo Switch has a custom designed integral cooling system, consisting of a copper heatsink, attached to an aluminum radiator for dissipation through a copper Heatpipe, where a fan reduces the temperature and expels the heat to the outside. During portable use, the fan probably will not rotate much (low noise), as the system reduces frequencies, but it will run at full performance when connected to the Dock.
The Switch has a 3.7V 4310 mAh battery.
A microSD card slot is available by increasing the built-in 32GB eMMC storage for storing games and files.
The SoC based on the Nividia Tegra X1 is accompanied by 4 GB of RAM LPDDR4.
The Switch has stereo speakers.
The LCD screen is not fused with glass, which should make repairs easier and cheaper if the outside glass is broken.
Joy-Con controllers are different, even on the inside; The right controller houses an additional NFC antenna for your Amiibo and there is also an infrared camera and an IR LED that works on some games by hand detection and facial expressions.
Both controllers have an advanced vibration motor for accurate haptic feedback. Each remote has a 3.7V 525 mAh battery.
Finally, the Nintendo Switch has a simple board with two USB 2.0 ports, a USB 3.0 port, an HDMI port and the power input via a USB-C connector. The Switch only allows the console to run at maximum performance (GPU frequencies) when connected to the Dock.