Rockstar Games has announced a series of new updates for GTA Online, which will arrive in the coming weeks and months with lots of new playable features, vehicles and much more for the millions of Los Santos who hit the streets every day.
GTA Online – New Cars, Circuits, Modes and more content scheduled for 2017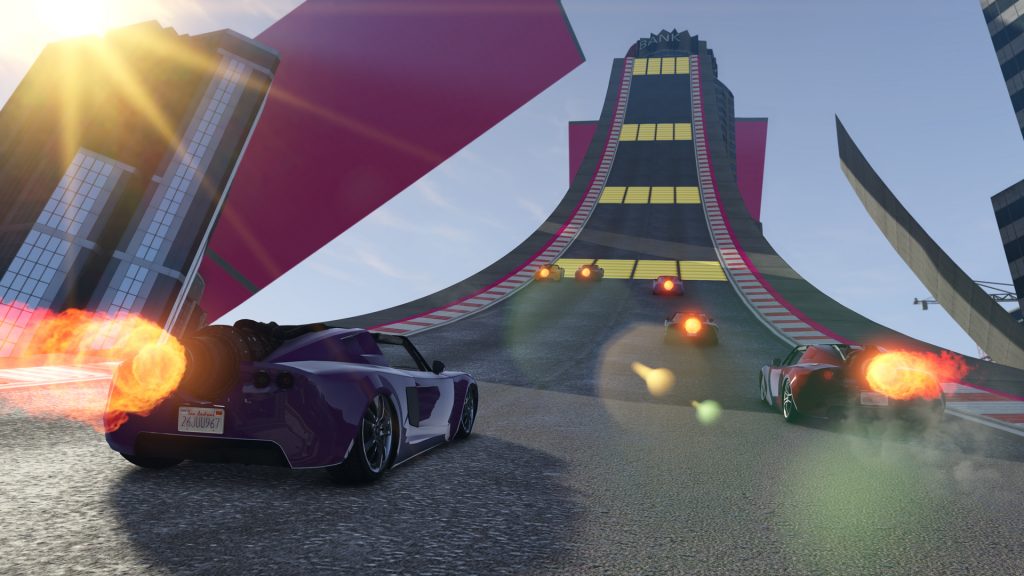 You Might Like: Rockstar planning whole United States as map for GTA 6
ACADEMIC CAREER EVENT 2017
This week they will honor acrobats and daredevils around the world with the launch of the 15 new acrobatic races that have prepared the developers of Rockstar. There will also be twice as much GTA $ and RP throughout the catalog of acrobatic races created by Rockstar and verified, among other great discounts and bonuses for adrenaline lovers. Plus, just by logging in during the event period you will unlock and receive the limited edition Jock Cranley Pink Jumpsuit.
CUNNING STUNTS: SPECIAL VEHICLE CIRCUIT
The next update, coming in March, will feature a new style of acrobatic racing designed specifically for the extraordinary capabilities of GTA Online's special vehicles: Rocket Voltic, Ruiner 2000 and Blazer Aqua. Each of these races will adapt to the special abilities of their respective vehicles, so you can expect to jump huge distances in races with the Rocket Voltic, drive at full speed by land and sea in the Aqua Blazer, or plunge with the Ruiner 2000. Creators will also have the opportunity to design their own careers for these vehicles, so this spring you can expect a lot of chaos and madness with Voltic, Ruiner and Blazer courtesy of the community.
NEW MODES OF GAME AND VEHICLES ON ROAD
The numerous Adversary modes remain the most popular way to play on GTA Online, and will add some new ones over the course of the spring. They prepared a version of the prisoner ball with a lot of black humor that we call Resurrection, and also has zenith, a nostalgic homage to the times when GTA was seen in 2D with some explosive turns, in addition to others that will be announced later. To expand the collection of vehicles, Rockstar decided to incorporate to GTA Online some classic vehicles of the saga, like the Tourism Classic and the Infernus Classic, that were first seen in the streets of Liberty City in GTA III.
SALE OF ARMS AND MORE, AVAILABLE COMING SOON IN SPRING AND SUMMER
Collect and dig in to fight the most dangerous militias in the state of San Andreas in another great update for GTA Online. With new armored vehicles and exciting new missions, be prepared to fight for control of illegal arms trafficking and go to war with the latest military weaponry.