[Rumor] The topic of GTA 6 returns like a boomerang from time to time, but today we have a really good reason to bend over it again. Recent unconfirmed information has indicated that the GTA 6 announcement will take place this week and though it's hard to take seriously, but who knows what Rockstar is up to.
Enter gtav.com in your web browser, then gtavi.com, gtavii.com, and finally gtaviii.com. Each of these addresses will redirect you to the official Rockstar Games website. But several hours ago something has changed. One of the addresses will not redirect you to the developer's website and "This site can't be reached" will pop up. Have you already guessed which address it is about? That's right – about GTA 6.
Reddit forum users say we had a similar situation just before Grand Theft Auto 5 was officially announced and add that the gtavi.com redirect has changed to the new game page, but the site is still under construction.
There is one more proof…
The players dug into the data to show that gtavi.com is owned by Take-Two and was last updated on March 23, 2020. Take a look at the following PrtSc: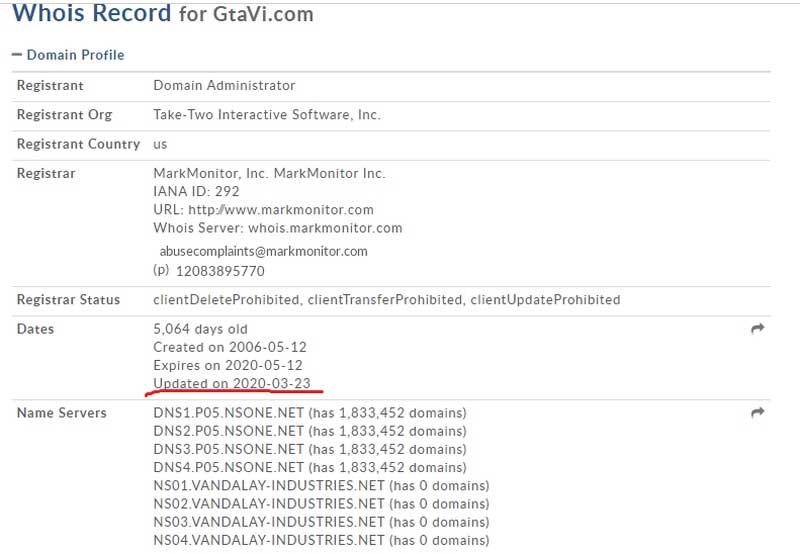 You Might Like: Rockstar planning whole United States as map for GTA 6
If GTA 6 is really coming out soon, it is possible that this will happen on the occasion of the presentation of the PlayStation 5 console. According to reports from last year, the new open-world game with gangsters would be a temporary exclusive on PlayStation 5.
That's right – we mentioned at the beginning of the rumor that GTA 6 is to be announced this week. More specifically – it is supposed to happen today, March 25.