With the mining fever already deflated by recent ban in China and by the devaluation of main cryptocurrencies, the prices of graphics cards (GPUs) are returning to normal much faster than expected. Although in the middle In May, Nvidia's GPUs had an extra cost of 304% on recommended price and 205% for AMD's GPUs, but in mid-June, we saw how these percentages fell to 191% / 181% respectively.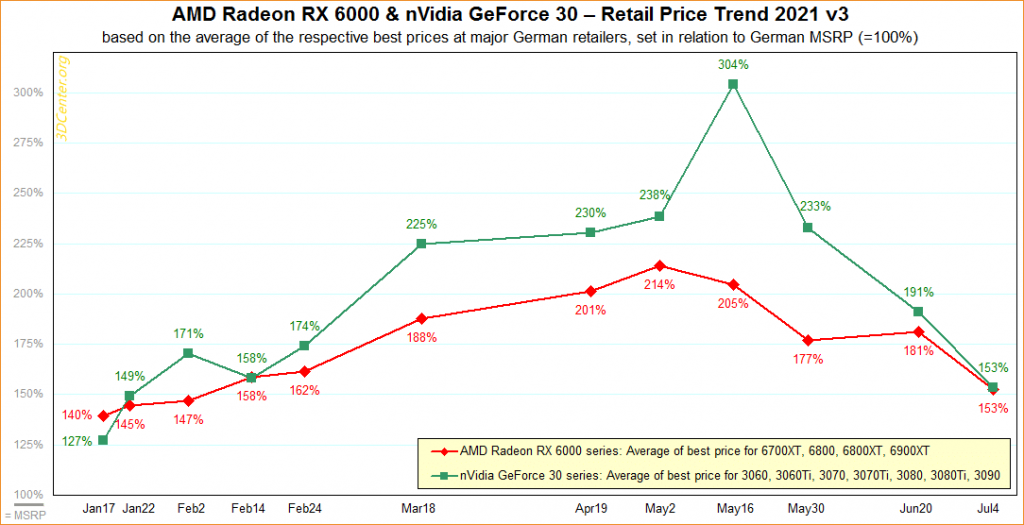 Now starting in July, we have another quite steep drop causing both AMD and Nvidia GPUs to have an extra cost drop of 153%, so we are getting closer to manufacturers' recommended price.
As quick examples, a Radeon RX 6800 XT can be found from 1089 to 1499 euros when at the beginning of May they cost between 1632 and 1773 , while a GeForce RTX 3080 now costs between 1199 and 1842 euros compared to 2299 and 2499 euros between March 18 and May 2.
If we look for economic models, the GeForce RTX 3060 can already be found from 589 euros, when in mid-May it cost almost double, since it started at 999 euros.