[Rumor] A few days ago, Take-Tow revelaed its plan to release no less than 93 games in the next 5 years, hoping that GTA 6 will be one of them.
The most interesting thing comes when the company has released the financial report detailing Take-Two Interactive's marketing budget for the next 5 years, which shows a large peak in spending for fiscal year 2024, and is more than double than any other year in that period, which has led to rumors that this huge advertising budget increase is linked to the possible launch of GTA 6.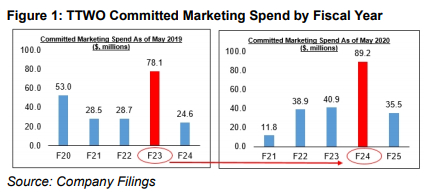 You Might Like: GTA 6 has been in the Development for a long time; Mexican Actor Revealed
Grand Theft Auto is one of the largest franchises in the gaming world, if we take into account the billions of euros it moves (in April 2018, it was estimated at $ 6 billion with a budget of 265 million). In addition, the GTA Online continues to collect millions of euros per month in microtransactions, so it makes all the sense in the world that the company throws the house out of the window at the marketing level, and that you can expect with the upcoming GTA.
If the GTA 6 arrives in 2023, it will be practically 2 years later with respect to the new generation consoles, more than enough time to optimize the title, although of course, seeing the latest movement of the company (GTA 5 giveaway on the Epic Games Store), Take-Two will seek to squeeze as much money out of the GTA Online as possible before launching a new installment, as it is still very profitable to add new content while its successor simmers.