Keith Lee, the CEO of Counterplay Games, participated in a new series of videos from AMD partners, where he explains the graphics features that were added to GODFALL with the Radeon RX 6000 series in mind.
The game will benefit from DirectX Raytracing Shadows (DXR) and Variable Rate Shading (VRS), both part of DirectX 12 Ultimate. Counterplay Games will also support AMD FidelityFX technology that will improve image quality, such as CAS (Adaptive Contract Approach).
Interestingly, Keith Lee revealed that playing GODFALL on 4K with UltraHD textures requires a GPU with 12GB of VRAM. This means that Radeon RX 6000 series, whose three advertised GPUs feature 16GB GDDR6 memory along with 128MB Infinity Cache, should have no problem playing with high-resolution textures.
Inevitably, this could also mean that the RTX 3070 and RTX 3080, with 8 and 10GB of VRAM, respectively, might not allow this quality of textures to be enabled due to lack of VRAM. It all depends on how Counterplay Games allows you to configure the game, since many titles allow you to configure the textures at different level.
GODFALL Official PC System Requirements:
The official requirements for GODFALL for PC were announced yesterday, although the resolution and target FPS were not specified for the minimum or recommended settings, so it could be speculated that they are for 1080p at 60 FPS for medium and high-ultra presets, respectively.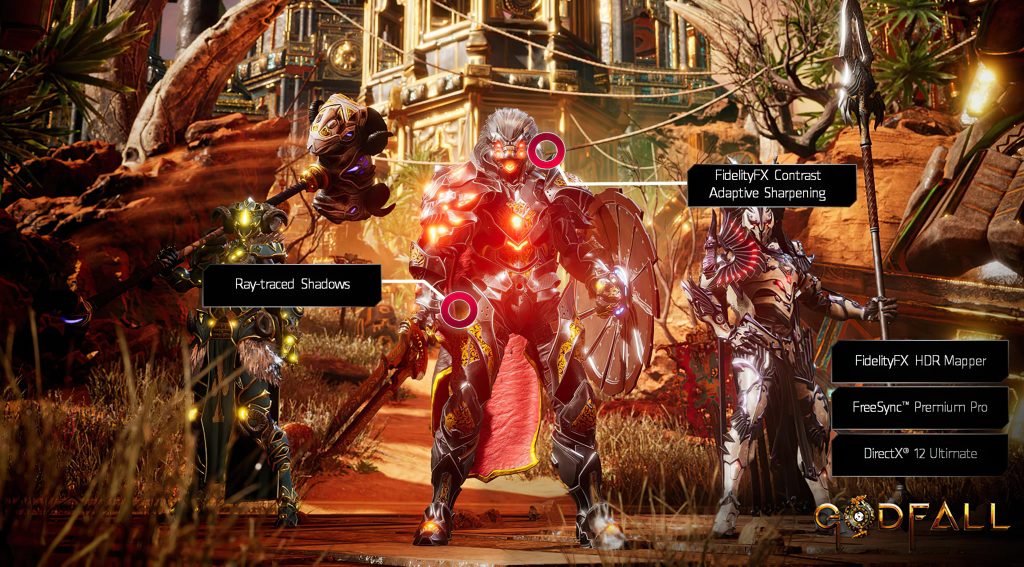 GODFALL Minimum System Requirements:
OS:   Windows 10 64-bit
Processor: Intel Core i5-6600 | AMD Ryzen 5 1600
Memory: 12 GB RAM
Graphics: NVIDIA GeForce GTX 1060 / AMD Radeon RX 580 8GB
GODFALL Recommended System Requirements:
OS:   Windows 10 64-bit
Processor: Intel Core i7 8700 | AMD Ryzen 5 3600
Memory: 16GB RAM
Graphics: NVIDIA GeForce GTX 1080 Ti 11GB / AMD Radeon RX 5700 XT 8GB
Godfall will have three editions:
Standard – Base Set
Deluxe – Base Game + First Expansion that will be available in early 2021
Ascended – Base Game + First Expansion that will be available in early 2021, in addition to the following items.- 5 golden weapon skins
– Golden Shield Skin
– Golden Royal Banner Skin
– Unique title for the multiplayer room
– Orange Valorian Armor Skin for Vertigo