Gigabyte announced the launch of its custom high-end GeForce GTX 1080 graphics card, the Gigabyte GeForce GTX 1080 Xtreme Gaming Waterforce WB. You should not confuse with the GTX 1080 Xtreme Gaming Wateforce where the major difference between the two is that we Xtreme Gaming Waterforce comes with integrated water cooling system and for Xtreme Gaming Waterforce WB you need to connect it with the custom water cooling system already installed in your system.
Gigabyte Launches GeForce GTX 1080 Xtreme Gaming Waterforce WB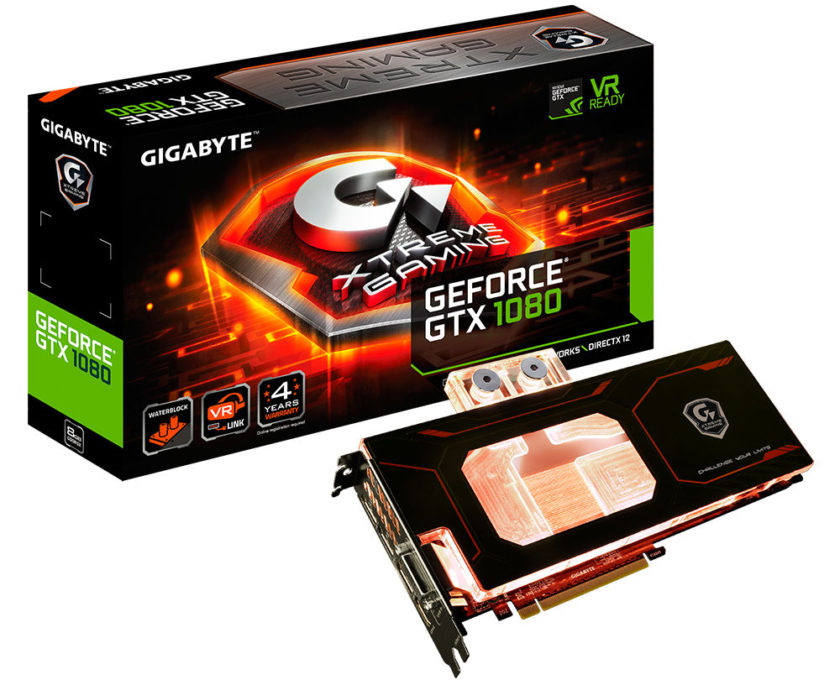 We are therefore facing an entirely copper block which will not only cool the GPU, but also VRAM, power section, memory and other components. The center part of the graphics card is left with an acrylic panel that reveals as the liquid flows through the graphics card, while in the top you will see the LED logo.
The Gigabyte GeForce GTX 1080 Xtreme Gaming Waterforce WB mounted Pascal GP104-400 silicon, manufactured at 16nm FinFET where they hide 2560 CUDA Cores with 160 TMUs and 64 ROPs reaching impressive Base / Turbo frequencies of 1784/1936 MHz  (vs 1607/1733 MHz in reference model) that keeps 8GB GDDR5X memory to a reference frequency of 10 GHz attached to a 256 – bit interface gives a bandwidth of  320 GB / s.
Regarding power, two PCI-Express connectors 8 + 8 – pin (each with an LED snitch that will light up) are needed because of one simple reason,  a 12 + 2 VRM power phases that promises a very aggressive Overclocking, a pair of HDMI 2.0 extra for easy connection to the VR Glasses, and its price would be close to 780 euros.