The Taiwanese company Gigabyte Technology will soon replenish its stock with a compact GeForce GTX 1080 Mini ITX graphics card, the specifications of which were published on the manufacturer's website the day before. Dimensions of the graphics card are 169 (D) x 131 (W) x 37 (V) mm, which makes it one of the most attractive solutions for small form factor systems.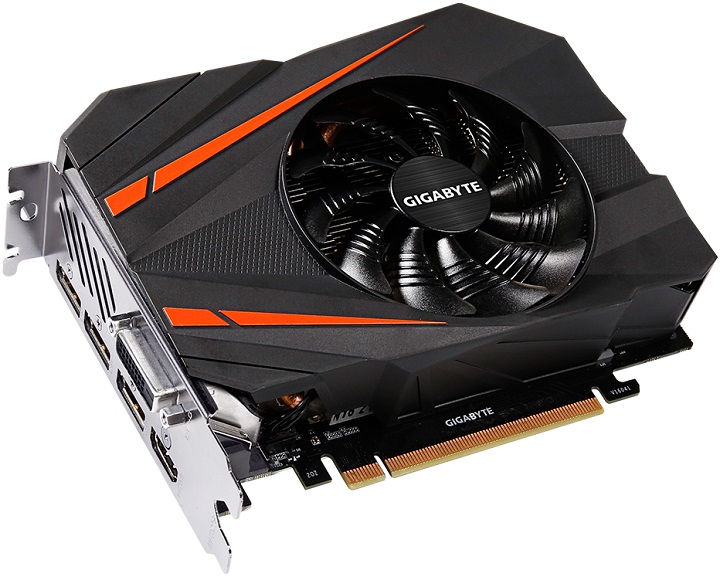 You Might Like: GTX 1080Ti Couldn't Run Final Fantasy XV on 4K @ 60 FPS
Gigabyte GeForce GTX 1080 Mini ITX operates with 2560 cores CUDA, 256-bit memory interface and 8Gb of GDDR5X, operating at an effective frequency of 10 GHz. In the game mode, the operating frequency of the GP104 GPU is identical to the reference one (1607/1733 MHz), and when the OS-mode is activated, the graphics card operates at a frequency from 1632 to 1771 MHz.
For the heat dissipation meets a two-slot cooling system with one 90-mm fan and an aluminum radiator, permeated with three heat pipes. The power supply subsystem of the graphics card is made according to the "5 + 2" scheme, on the edge of the board there is an eight-pin PCI-E Power connector. You can use the HDMI, DL-DVI and DisplayPort (x3) ports.
Regarding the release date and recommended price of Gigabyte GeForce GTX 1080 Mini ITX at the moment no information has been received.