Through the Watch Dogs Legion code redeem website, Gigabyte unveiled models of GeForce RTX 3000 series graphics cards, which have not been announced by the manufacturer or Nvidia.
The product list includes the 8GB variant of GeForce RTX 3060 (labeled with "S" = SUPER?), the 16GB variant of GeForce RTX 3070 (S = SUPER?), and the Geforce RTX 3080 20Gb (also labeled with S). It is unclear whether the S stands for a SUPER series or, as rumors tend to believe, the Ti models.
If you didn't already have a good sense of what has been revealed by the codenames, then we also have a helpful translation into typical Gigabyte model names, as follows:
GV-3060SEAGLE OC-8GD: Gigabyte RTX 3060 (Ti/Super) Eagle OC 8GB
GV-3070SGAMING OC-16GD: Gigabyte RTX 3070 (Ti/Super) Gaming OC 16GB
GV-307SAORUS M-16GD: Gigabyte RTX 3070 (Ti/Super) Aorus Master 16GB
GV-308GAMING OC-20GD: Gigabyte RTX 3080 Gaming OC 20GB
GV-308SAORUS M-20GD: Gigabyte RTX 3080 Aorus Master 20GB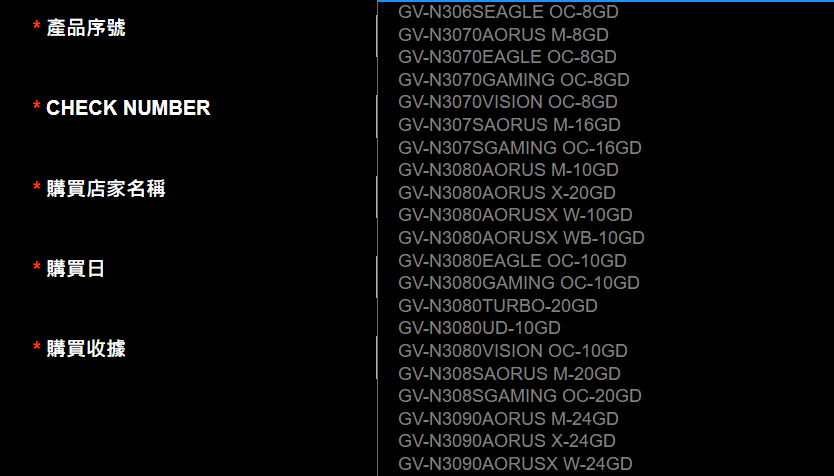 This leak confirms memory configurations that we speculated for at least two months. The GA104-based RTX 3060 will feature 8GB of memory, while the RTX 3070 supercharged with full GA104 GPUs (6144 CUDA) is expected to feature 16GB of GDDR6 memory.