Today we have the first leaked picture of Gigabyte Aorus GTX 1070 Ti graphics card, which is characterized by a total of eight HDMI video outputs, something never seen in a consumer graphics card.
NVIDIA GeForce GTX 1070 Ti will be released in a few days and we have already seen few custom variants of this new graphics card promised to compete with VEGA 56 from AMD camp. Previously we have seen leaked details and pictures of KFA2 GeForce GTX 1070 Ti and Gigabyte GeForce GTX 1070 Ti G1, but now it has been revealed that Gigabyte also plans to launch new graphics card based on its flagship monster tripple fan heatink, the Gigabyte Aorus GTX 1070 Ti. The below image is completely real, so Gigabyte actually has a graphics card with eight HDMI ports.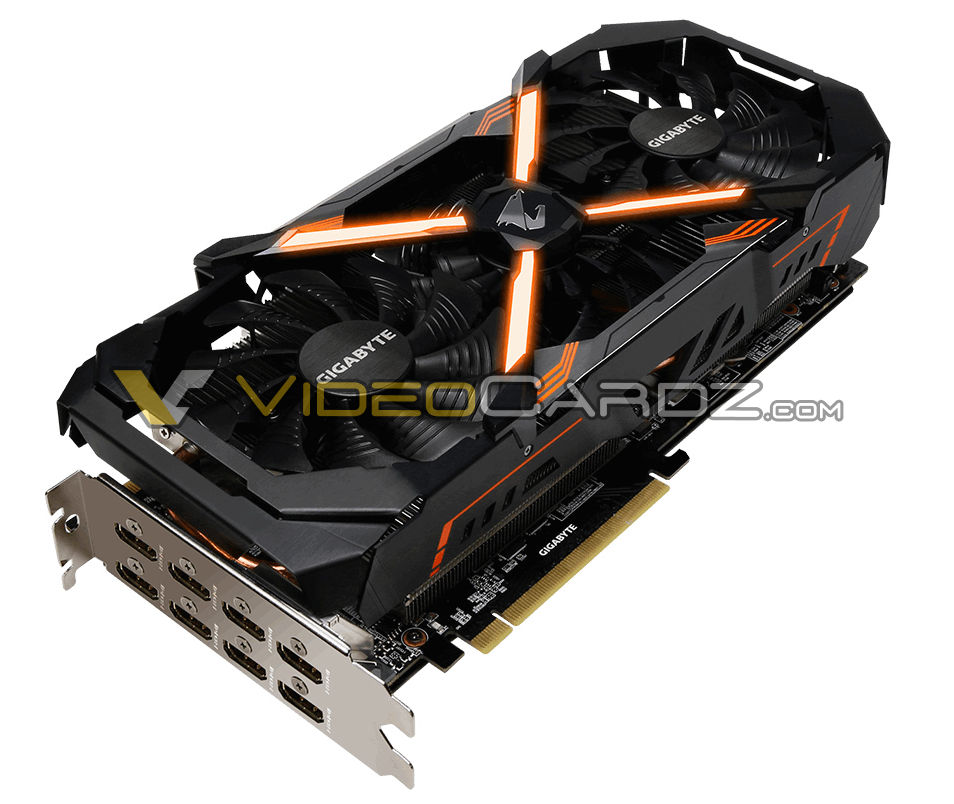 The specifications will be typical for all models of GeForce GTX 1070 Ti, offering a total of 2432 CUDA Cores, which will have 152 TMUs and 64 ROPs, working at a base frequency of 1607MHz and Boost mode reaching 1683MHz, with a total 8GB working at 8GHz and a total TDP of 180W. We must remember that, the AIB partners of NVIDIA are completely forbidden to touch the frequencies, because with the possible increment of 100-150MHz, this graphics card would surpass the GeForc GTX 1080, but apparently users will be able to Overclock new graphics cards to get GeForce GTX 1080 level performance for less money.
Above all, the eight HDMIs stand out, but this graphics card also has a Gigabyte WindForce3X cooling system, which has a separate aluminum fins dissipator in two parts and all crossed by six copper heatpipes that have a thickness of 3 PCIe slots and a solid backplate. This heatsink has three fans, two of them slightly above the central fan. It has RGB LED lighting and several lighting modes, and can operate in synchronized with the rest of the lighting (as long as you have motherboard from Gigabyte camp too)
Source: Videocardz