Gigabyte announced its new top-of-the-range SSD, the AORUS Gen4 7000s, which equals other top-of-the-range SSDs on the market thanks to the use of the Phison PS5018-E18 controller along with 3D TLC NAND Flash memory chips, 2GB of memory DDR4 cache and PCI-Express 4.0 x4 interface, resulting in sequential speeds of up to 7000MB / s for reading and up to 6850MB / s for write, while in regards to playback and 4K random writing we speak of up to 650,000 / 700,000 IOPS.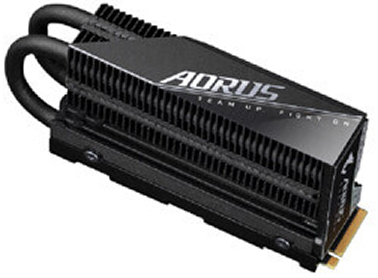 This unit only comes in two variants of 1 TB and 2 TB capacity , and both use a cooling system in the form of an aluminum heatsink with a nanocarbon coating and a thermal pad with high thermal conductivity, promising an improvement in heat dissipation by 30 percent. Additionally, a variant (above picture) will arrive that is already crazy, which would be about 4 times fatter because an aluminum radiator is mounted on top accompanied by 2x copper heatpipes, although this model is not yet listed in the official website of the company.
Information from the Gigabyte AORUS Gen4 7000s complete with a "real" performance of 7016 / 6881 MB / s in CrystalDiskMark benchmark, all units backed by 5 year warranty, 1.6 million hours of use or up to 1400 TB of written data. Not a word in regards to its availability or price.