Along with the official launch of the Ryzen 3000 XT series, AMD today launched a new promotion for third-generation Ryzen 7 and Ryzen 9 processors, whose buyers will receive the Assassin's Creed Valhalla (standard edition) for free.
The promotion begins today, July 7 in and will be valid until October 3, 2020 or while supplies last. The codes will be valid until November 7 of the same year.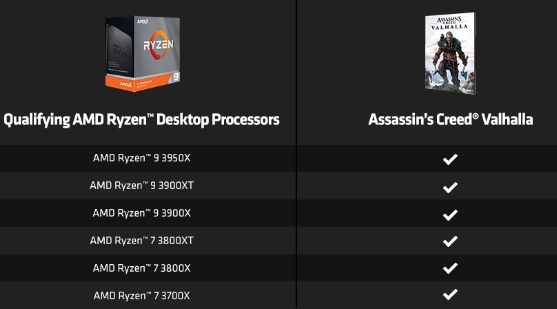 The list of procesor models that enter the promotion are the following:
AMD Ryzen 7 3700
AMD Ryzen 7 3800X
AMD Ryzen 7 3800XT
AMD Ryzen 9 3900X
AMD Ryzen 9 3900XT
AMD Ryzen 9 3950X
Assassin's Creed: Valhalla will be released worldwide Holiday 2020 on Xbox Series X, PlayStation 5, Xbox One, PlayStation 4, Stadia, and for Windows PC exclusively on both the Epic Games Store and the Ubisoft Store.