As reported mydrivers and Videocardz, Nvidia is planning to launch GeForce RTX 3060 Ti on 17th November, 2020. This date seems to coincide with previous rumors that this new GPU would launch in mid-November. The RTX 3060 Ti is already being distributed to retailers and will soon be shipped to reviewers.
The NVIDIA GeForce RTX 3060 Ti will feature the GA104-200 GPU and will be equipped with 4864 CUDA cores (1024 cores or 8 SM less than the RTX 3070). Similar to the RTX 3070, this model will feature 8GB of 14Gbps GDDR6 memory. The bus width will remain at 256 bits, which should provide 448 GB / s of bandwidth.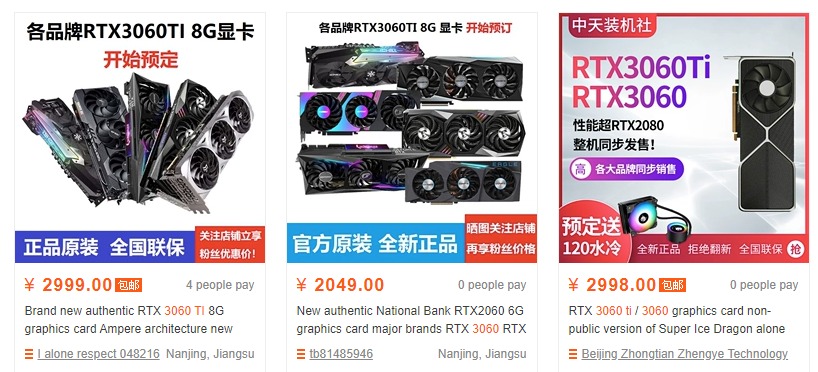 Similar performance to the RTX 2080 is expected and it would cost less at $ 400. The timing of the GeForce RTX 3060 Ti launch is also interesting as it comes within the launch timeframe of AMD's Big Navi cards. Considering that even the Radeon RX 6800 is priced at US$579, the GeForce RTX 3060 Ti is certainly not being prepped as a competitor to AMD's top-tier offerings. Rather, it could well be NVIDIA's value play in the midrange.
NVIDIA GeForce RTX 30 Series
RTX 3090
RTX 3080
RTX 3070
RTX 3060 Ti
Reference Plate
PG132 SKU 30
PG132 SKU 10
PG142 SKU 10
PG190 SKU 10
GPU
8nm GA102-300
8nm GA102-200
8nm GA104-300
8nm GA104-200
Tablet Size
Transistors
CUDA Cores
GPU utilization
Tensor Cores
RT Cores
Base Clock
Boost Clock
Shader Perf.
Memory
Memory Clock
Memory Bus
Maximum Bandwidth
Consumption
Price
Release date
24th September
September, 17th
October 29th
Mid-November