G. Skill announced the launch of one of its most ambitious memory kit, the G. Skill Trident Z Neo 256 GB DDR4, and this is achieved with no less than 8x sticks of 32 GB capacity each.
Obviously, this memory is not for playing Minecraft RTX @ 4K, but intended for the professional environment, and that is why they have optimized for the recently launched AMD Ryzen Threadripper 3990X with 64 cores and 128 processing threads.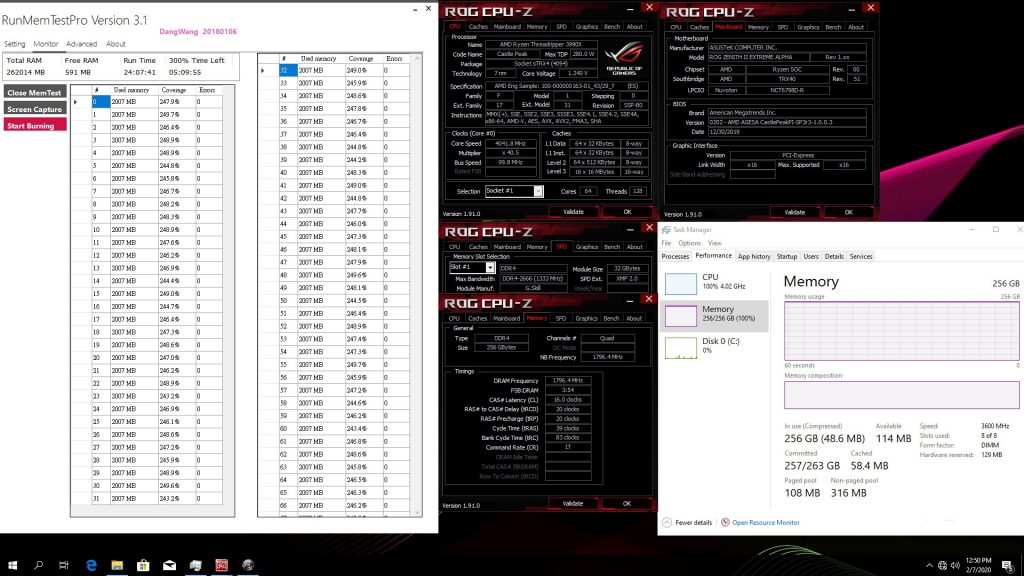 You Might Like: Liquid Nitrogen-cooled Threadripper 3990X @5.5GHz Crushes Various World Records
G. Skill Trident Z Neo 256 GB DDR4 memory kit reaches a frequency of 3600 MHz together with a latency of CL16-20-20 operating at a voltage of 1.35v. According to G. Skill, its 256 GB Trident Z Neo have been tested with a Threadripper 3990X together with an Asus ROG Zenith II Extreme Alpha motherboard guaranteeing stability @ 3600 MHz with the CL16 latencies.
Little else was announced, but we know that this new kit will go on sale in the second quarter of this year.
The ultimate in performance with the AMD Threadripper 64-core

With the 256GB ultra high capacity kit, G.SKILL is now pushing the performance limit of 32GB memory modules to a high level of DDR4-3600 on the AMD Threadripper platform. Optimized to unleash the full potential of AMD's latest 64-core processor, the Trident Z Neo DDR4-3600 CL16 256GB (32GBx8) has been validated with the AMD Ryzen Threadripper 3990X processor and the ASUS ROG ZENITH II EXTREME ALPHA motherboard