G.Skill today announced its new top-of-the-range DDR4 RAM kit, and these are the Trident Z Royal Elite, which maintain the design inspired by a jewel although this time in a 3D pattern sculpted entirely from a single piece of aluminum. Each Trident Z Royal Elite heatsink is painstakingly chiseled with 76 faces to lend the ultimate luxury aesthetic to any PC build.
The Trident Z Royal Elite modules will be available in gold or silver with iconic RGB light bar embedded in a crystal patterned piece.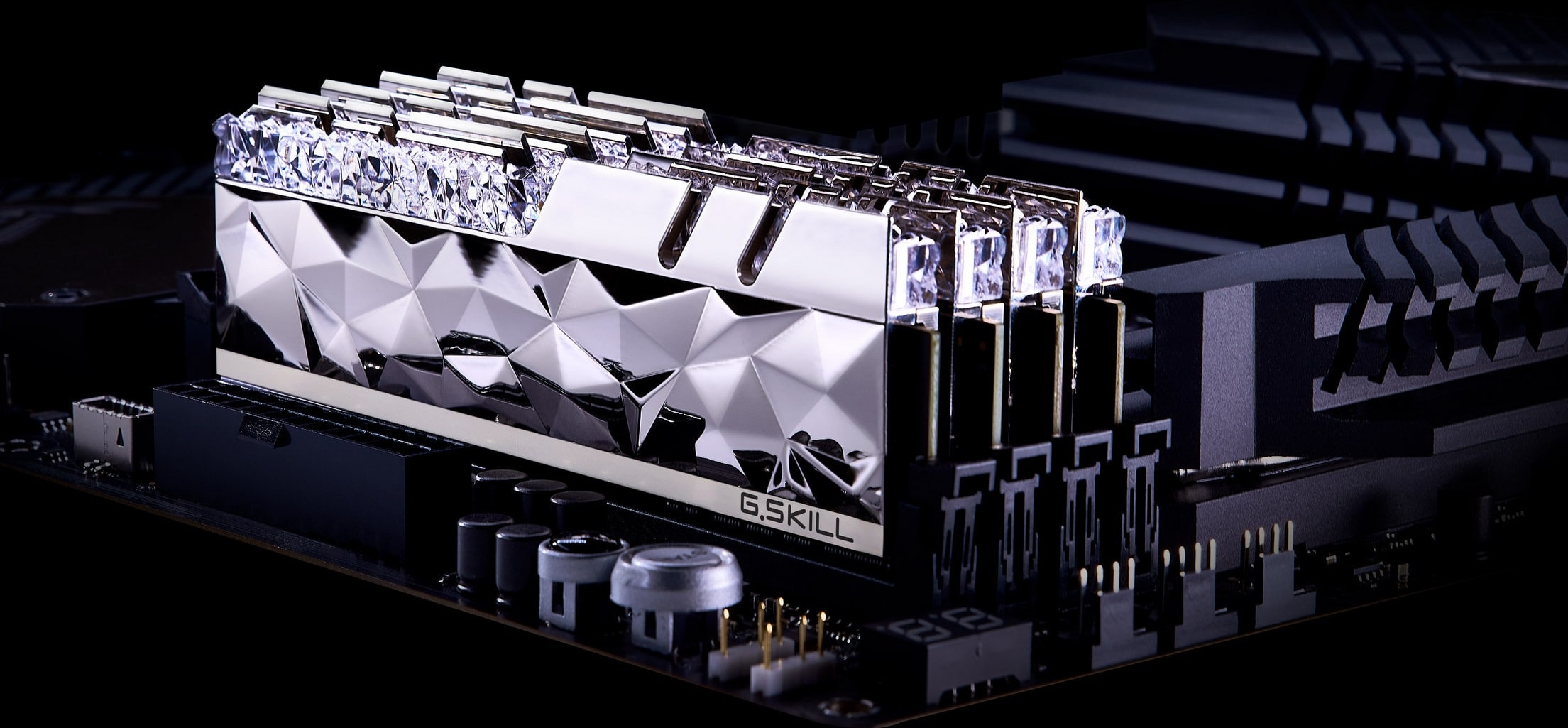 In terms of specifications, the G.Skill Trident Z Royal Elite use high-performance chips, so the top-of-the-range model is capable of reaching 5333 MHz with a latency CL22 -32-32-52 @ 1, 6v that comes in the form of 16 GB capacity Dual Channel kit.
Below we have models at 5066 MHz CL20-30-30-50 @ 1.6v; 4800 MHz CL19-28-28-48v; 4266 MHz CL16-19-19-39 / 19-26-26-46 @ 1.5v; 4000 MHz CL16-19-19-39 / CL18-22-22-42 @ 1.4v; and at 3600 MHz CL16-19-19-39 @ 1.35v. For now, we don't have details about their availability in the market and the prices at which they will arrive.
G.Skill Trident Z Royal Elite Specifications
| Data Rate | Primary Timings | Voltage | Capacity |
| --- | --- | --- | --- |
| DDR4-5333 | 22-32-32-52 | 1.60V | 2 x 8GB |
| DDR4-5066 | 20-30-30-50 | 1.60V | 2 x 8GB |
| DDR4-4800 | 19-28-28-48 | 1.50V | 2 x 8GB |
| DDR4-4266 | 16-19-19-39 | 1.50V | 2 x 16GB, 2 x 32GB |
| DDR4-4266 | 19-26-26-46 | 1.50V | 2 x 16GB |
| DDR4-4000 | 16-19-19-39 | 1.40V | 2 x 16GB |
| DDR4-4000 | 18-22-22-42 | 1.40V | 2 x 32GB |
| DDR4-3600 | 16-19-19-39 | 1.35V | 2 x 8GB, 2 x 16GB, 4 x 16GB |