Ever wondered what the rarest fish in Fortnite is, and just what its capable of?
The introduction of Fortnite Chapter 2 a while back saw a new mechanic brought into the game that allowed players to go fishing. The practice of fishing is something that we have seen in many games across the years, as it has proven to be a popular pastime for players who want to take a break every now and then. This isn't the only reason however, as often fishing can conjure up some pretty exciting rewards. This is also true for Fortnite, with one of the rarest items within the entire game being found from the art of fishing. Whilst many things in the Fortnite item shop are considered to be incredibly valuable, perhaps the rarest is found swimming around the battlefield. 
The Fishing Event
Late last year, we saw Epic Games host an event in which they challenged players to catch a variety of different fish. Each fish would reward players with different prizes depending on the rarity of each fish. One of the prizes that was mentioned was the Bottom Feeder pickaxe. In order for players to have obtained the pickaxe, then they would have had to have caught the Mythic Goldfish. 
How Rare is This Mythic Goldfish?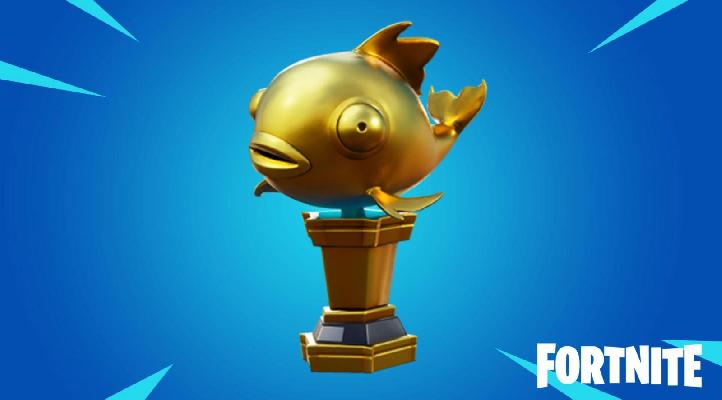 You can gauge just how rare the Mythic Goldfish is by simply looking at the statistics. During this event, over 25 million fish were caught. However, the amount of Mythic Goldfish that were caught is a mere 34. This was judged by the amount of Bottom Feeder pickaxes that were handed out during the competition, and applying these stats would mean that there is only a 0.000136% chance of catching the fish. That's assuming that only 25 million were caught in total, though it was confirmed during the event that at least 25 million were caught. 
The introduction of the Mythic Goldfish was certainly a way for Epic to mix things up in Fortnite. In fact, it did so much so that many believed that the fish didn't even exist due to its rarity. We have seen many examples of this within gaming with such rare sightings, such as the Shrouded Ghost megalodon in Sea of Thieves amongst others. Yes, it's a rare fish indeed, but there is also something else unique about this evasive little creature.
What Makes the Mythic Goldfish So Special?
Asides from the fact that it gave out a special pickaxe to those very lucky few who managed to catch it during the time of the competition, and that its catch rate is so low, there is something else that is special about the Mythic Goldfish. 
It stands out from the crowd as the only fish in Fortnite that is able to deal damage. At first, it as rumoured to have been able to dish out 90 damage points to players. This was in fact untrue, as it proved that it could actually deal 200 damage points. This is a particular turn of pace from other fish who are often found to provide health to the player. The Mythic Goldfish however is more interesting in dealing death to those who dare oppose it. With the ability to inflict 200 damage, it effectively means that it can kill any player regardless of their inflated health status. So its rarity is accompanied by a deadly power, adding only to its notoriety.
So if you are ever lucky enough to be able to find one of these fish, then you'll know that they can most certainly pack a punch. We often think of the Fortnite item shop when you look into the rarest parts of the game, with skins and such only being obtainable in very unconventional ways. This is however something that you could find yourself swimming around certain locations once you have landed from your descent from the battle bus. So if this is still of intrigue to you, then be sure to get fishing at your earliest convenience. 
Have you caught the Mythic Goldfish? Let us know in the comments section below!